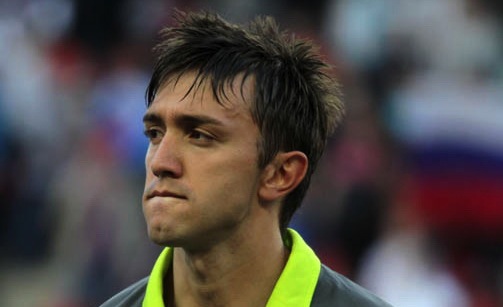 Fernando Muslera has conceded the highest number of goals in a single season since joining Galatasaray in 2011.
Muslera let in his 34th league goal of the season in the 2-1 defeat against Trabzonspor on the weekend.
The Uruguayan keeper also conceded 15 times in five Champions League games this season.
Galatasaray:
2014-15 – 34 goals conceded
2013-14 – 19 goals conceded
2012-13 – 17 goals conceded
2011-12 – 11 goals conceded
Lazio:
2010-11 – 10 goals conceded
2009-10 – 13 goals conceded
2008-09 – 17 goals conceded
2007-08 – 19 goals conceded
See More
Galatasaray News
Trabzonspor News
3 players Galatasaray are interested in signing in the summer transfer window
Muslera has conceded a total of 16 goals in his last 10 games.
Despite having a poor season by his standards in terms of goals conceded Muslera is still regarded as being one of Galatasaray's most important players this season.
The Galatasaray defence has primarily been blamed for the goals conceded tally. An average of 13.9 shots per-game are take by opposition sides – the highest in the top five.
Muslera has averaged 3.1 saves per-game in the league, only Serkan Kırıntılı averages more when compared to keepers that have played 25 games or more according to Whoscored.
The Uruguayan international played an integral in the Lion's back-to-back title winning seasons – 2011-13 – and played an important role in Galatasaray reaching the Champions League quarter-finals last season
Muslera joined Galatasaray from Lazio in a deal worth €12 million in 2011.