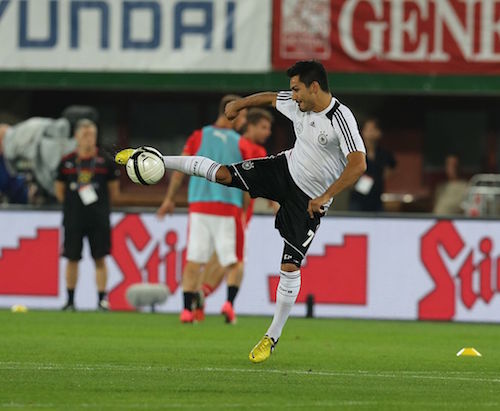 Manchester City's latest transfer Ilkay Gundogan has stated that he wants to emulate the legendary Barcelona midfielder Xavi Hernandes.
Gundogan joined city from Borussia Dortmund for £20 million last month. However, the 25-year-old will miss the opening weeks of the Premier League season after dislocating his knee.
The midfield playmaker sustained the injury while at Dortmund and been ruled out until at least August.
"When I was young I loved the football of Barca, especially Xavi and Iniesta in midfield. Xavi is in Qatar now and close to retiring but I love the way he played. Some say I'm similar to him." Gundogan told the Sun.
"I hope in the next years I will be as successful as him and win a lot of titles with Manchester City."
Gundogan was born in Germany but is part of the large Turkish community which numbers 3-4 million. The 24-year-old's family originate from the Afyon province in Western Turkey.
The 25-year-old provided seven assists and scored three goals in 40 appearances for Borussia Dortmund last season.
See More
Man Utd boss Jose Mourinho closing in on €13m rated Valencia wonderkid
Liverpool ace hurls shocking insult at Jurgen Klopp ahead of Fenerbahce move