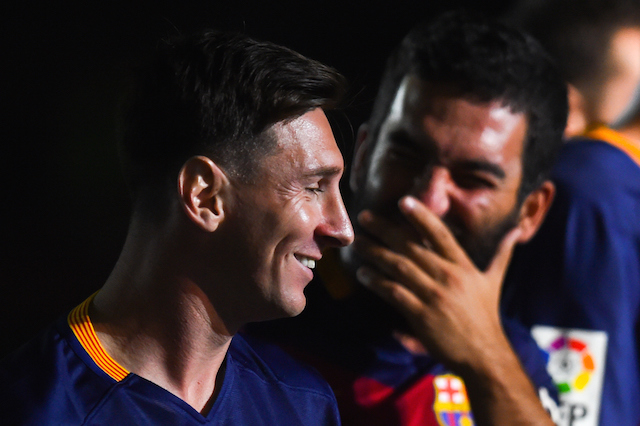 Arda Turan has a lot of free time on his hands considering he not allowed to play for his new club until January due to the FIFA transfer ban imposed on Barcelona.
The bearded winger has however, been bonding with his new teammates off the field especially the Brazilian members of the squad.
Brotherhood… 🇹🇷🇧🇷 @neymarjr pic.twitter.com/XofbCUHg2P

— Arda Turan (@ArdaTuran) November 3, 2015
Turan often sends messages on social media to Neymar and Dany Alves – how they communicate we have no idea as the bearded winger doesn't speak Portuguese or Spanish and as far as we know Neymar and Alves do not speak Turkish.
Good morning! 😉 @neymarjr pic.twitter.com/sXohatH9gz

— Arda Turan (@ArdaTuran) November 9, 2015
Despite this they have built a strong bond and recently took part in a Barcelona Player Tournament setup by EA SPORTS FIFA 16.
Ter Stegen, Bravo and Alba also took place in the tournament. The six players were split into two teams with Neymar, Alves and Alba wearing the yellow Barca kit and Turan, Alves and Brave in the traditional colours.
Neymar's team did end up winning the game 4-0 and were crowned FIFA 16 champions.
See More
Four reasons why Liverpool star Emre Can will succeed under Jurgen Klopp
Mesut Ozil is the reason Arsenal are top of the table says Thierry Henry