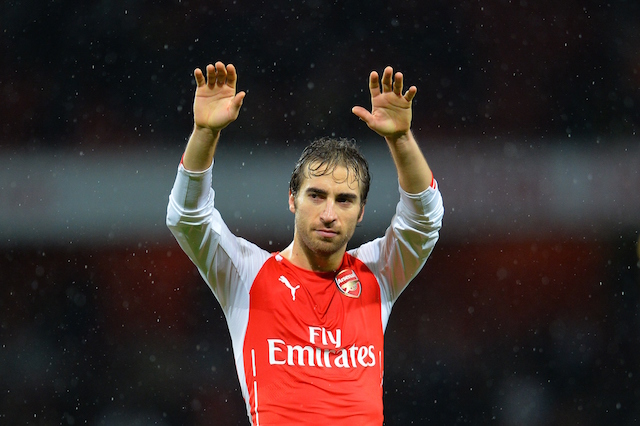 Arsenal star Mesut Özil has praised Arsenal teammate Mathieu Flamini for his recent performances in particular his volley against Tottenham in the Capital One Cup victory over there rivals.
Flamini scored a brace in the 2-1 win over Spurs at White Hart Lane that knocked their north London rivals out of the competition.
Özil told the official Arsenal website: "He scored two wonderful goals [at White Hart Lane]," Ozil told Arsenal Player. "He's been rewarded for his strong showings and those goals were of course sensational.
"[Volleys like that] are really difficult. Sometimes when you see players connect with them, the goalkeepers save the shot or they miss the target. Mathieu caught his perfectly and scored a wonderful goal, especially because it was the winner."
Flamini was on the verge of leaving Arsenal over the summer transfer window with Galatasaray interested in signing the Frenchman but he stayed and fought for a place in the team.
The experienced midfielder has made just two appearances for the Gunners this season but his two goals made him a fan favourite.
Özil has a close relationship with Flamini. In-fact Theo Walcott described the special bond the two players have as being 'Flamzil' and went as far to say: "They go to the gym together, have massaged together I wouldn't be surprised if they even share a house together."
The World Cup winner often shares Instagram pictures with Flamini and the bromance grew even stronger when Özil stated: "I have a really good understanding with Mathieu. He's a guy who always gives 100 per cent on the pitch but when he's off the pitch, he's a player who makes a lot of jokes and gets on well with a lot of his team-mates."
See More:
Three reasons Arda Turan would be a success at Chelsea
Enes Unal predicted his move to Manchester City three years ago