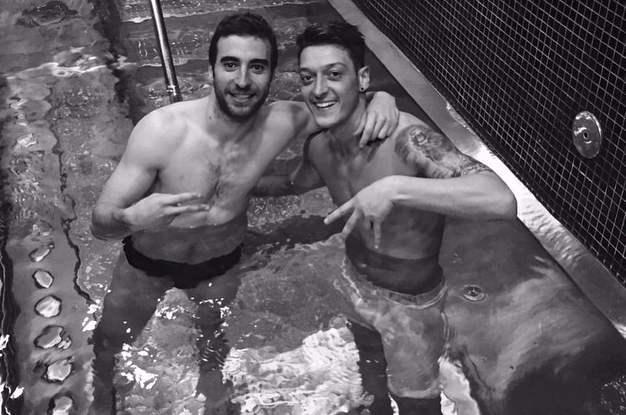 Mesut Özil has established one of the most beautiful bromances in the world of football with his dear Arsenal teammate Matthieu Flamini.
Theo Walcott has described the special bond the two players have as being 'Flamzil' and went as far to say: "They go to the gym together, have massaged together I wouldn't be surprised if they even share a house together."
Daniel Welbeck described the two players fondness for each other in a recent interview on the Arsenal Media: "The bromance of the season award goes to Mesut Özil and Flamini they are twins. I've played with twins, in Fabio and Rafael Da Silva, but these are closer."
Özil undeterred continues to praise his teammate Flamini, underlined that he genuinely gets on with the Frenchman and that they had a lot of fun together.
"I have a really good understanding with Mathieu. He's a guy who always gives 100 per cent on the pitch but when he's off the pitch, he's a player who makes a lot of jokes and gets on well with a lot of his team-mates," Özil told the official Arsenal website.
"He's just a great guy with whom I have a lot of fun. As I said, we're just pleased to have him in this team."
Özil is coming off the back of a fantastic performance against Manchester United scoring his first goal of the season and providing an assist in the 3-0 win.
The World Cup winner now has four assists and one goal in all competitions for the Gunners this season.
The 26-year-old is currently on international break with Germany and is one of three players of Turkish origin in the side – Dortmund midfielder İlkay Gündoğan and Liverpool start Emre Can being the other two.
See More:
Three reasons Arda Turan would be a success at Chelsea
Enes Unal predicted his move to Manchester City three years ago