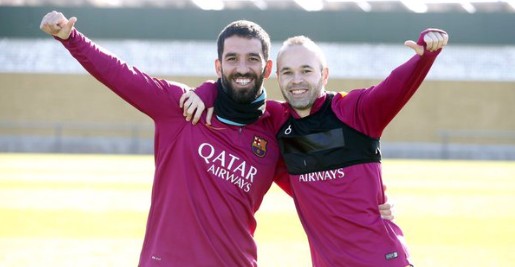 Barcelona star Andres Iniesta has sent a shout out to his teammate Arda Turan via his official Twitter account.
Now our Spanish is not quite perfect so we have had to rely on google translate here but it appears Iniesta is calling Turan something along the lines of 'big man'.
Whatever he actually meant it is clear the two are getting along pretty well. Both are posing arm in arm giving a big smile and a thumbs up.
Con un grande! @ArdaTuran pic.twitter.com/HbOGAeGLm3

— Andrés Iniesta (@andresiniesta8) February 4, 2016
Turan and Iniesta both have a lot to smile about considering Barcelona are unbeaten in their last 27 games.
Barcelona have won all nine games since Arda Turan made his debut in the 4-1 victory over rivals Espanyol last month.
The Turkish international star recently revealed that Andres Iniesta is his footballing idol and that no player is comparable.
"[Andres] Iniesta is my idol, he is incredible," he said on the Que t'hi jueges! show on Radio station Cadena Ser.
"Messi is the best player in history, but the way Iniesta plays in incomparable. He enjoys playing and you enjoy watching him play."
Turan is expected to feature against Levante in the La Liga leaders away fixture on Sunday.
See More
Barcelona Player Profile: Arda Turan – The Bearded Genius
Three reasons Arda Turan could be a success at Barcelona