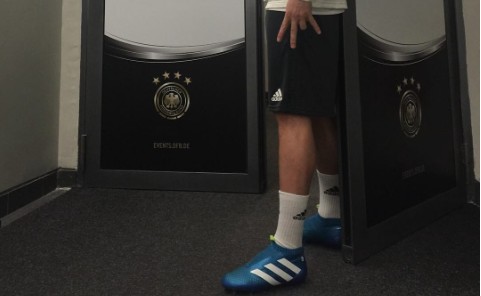 Scrolling through Mesut Ozil's Instagram account it soon becomes pretty clear that the Arsenal star loves his shoes.
The World Cup winner probably gets paid to promote most of them but he usually always has an interesting choice of footwear.
Ozil is expected to feature for Germany in the international friendly clash against England at the Berlin Olympic stadium tonight and you guessed it… he has a new pair of football boots.
The playmaker shared his new boots on Instagram alongside the caption: "My new boots are finally broken in – #DieMannschaft is ready for tomorrow. Let's hope for a peacefully match #GERENG in Berlin! #ACE16 #BeTheDifference @dfb_team."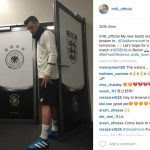 The obvious feature that first strikes the eye is that the boots are laceless. Ozil also pulls off his now famous 'M' hand signal which symbolises his love for his niece Mira.
Ozil became the first Premier League player to use laceless boots and believes that the laces of traditional boots do reduce the ball control a player has.
"My whole career I have tried to minimise the impact of laces on my strike and ball control," Ozil was quoted as saying in the Telegraph.
"I revealed to Adidas in 2014 that in the changing room I knot the laces over and over again and then tuck in the ends – that way they do not interfere with my touch."
Ozil will use his laceless boots in the Germany national team game against England tonight.
See More
3 things we learned about Mesut Ozil after Arsenal win over Everton
Arsenal boss wants Mesut Ozil to score goals like Thierry Henry