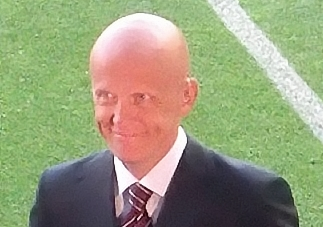 Pierluigi Collina gatecrashes 5-a-side game in Turkish Mastercard advert [divider]
Legendary Italian referee Pierluigi Collina is the star of the show in a new advert by Mastercard.
The advert is set on 15 December, two unsuspecting teams prepare for a six aside amateur football game.
The start of the game is interrupted by the Champions League theme tune, following by the kid mascots and then the netting is removed to display a passionate set of fans.
The players look bewildered but the icing on the cake is when Collina gatecrashes the start of the game and lines up alongside the players for the pre-match precession.
Collina then goes onto officiate the game and gets treated by a tray of Baklava after the game.
Baklava is a traditional Turkish desert made of layers of filo filled with chopped nuts and held together with syrup.
Collina is also very popular in Turkey, as no Turkish team at international or club level lost a match he officiated.