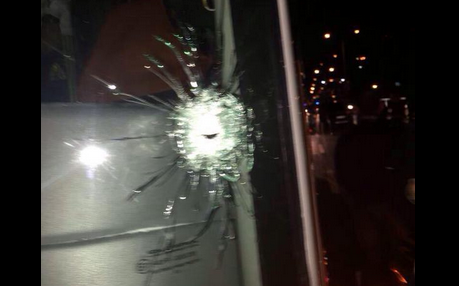 Turkish police have detained two men over the armed attack on the Fenerbahçe team bus.
Trabzon governor Abdil Celil Öz said the suspects, N.S. and E.A., were arrested in the Sürmene district of Trabzon.
"One of the suspects tailed after the team bus on its way to Trabzon from Rize and informed the other when the team were close to Sürmene and opened fire on the team bus with an automatic rifle, the investigation is ongoing," Öz stated on TRT.
See More
Fenerbahce News
Fenerbahce make loan bid for Palmeiras striker Henrique
Neymar: 'I support Fenerbahce because of Diego'
Öz also said the suspects had been seen on camera recordings but that the investigation has not ended.
The suspect who followed the bus allegedly filmed the attack and shared images of the attack on his Facebook account.
The Fenerbahçe team was making its way toward Trabzon's airport following a 5-1 Süper Lig victory at nearby Çaykur Rizespor when the attack took place.
The driver Ufuk Kıran was shot however, the rest of the team and staff were unharmed.
Fenerbahçe stated they would not play another match until the assailants in the attack were caught.
The Turkish Football Federation (TFF) reacted to the attack by suspending Süper Lig and Turkish Cup matches for a week.