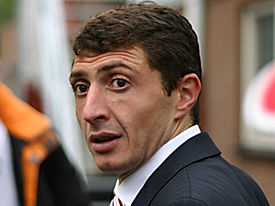 Kasimpasa manager Shota Arveladze has vented his frustration at refereeing calls going against his side in recent week.
The former Trabzonspor player spoke to reporters following his sides 3-1 victory over Rizespor.
"We created many goal scoring opportunities, I congratulate my players for this," Arveladze said.
"I wish I could be more happy, the first goal we conceded against Galatasaray was offside.
"Against Besiktas a very easy penalty was given against us and a red card wasn't given to Motta.
"Today a perfectly good goal for us was ruled out. How can a ball which strikes a player in the face be given as handball.
"The assistant behind the goal said it was a goal but the referee didn't change his decision.
"After that a stone wall penalty wasn't given."
Kasimpasa have moved up into 6. place following their win in the 11. week of the Super League.
Shota Arveladze's side travel to Bursaspor next week.