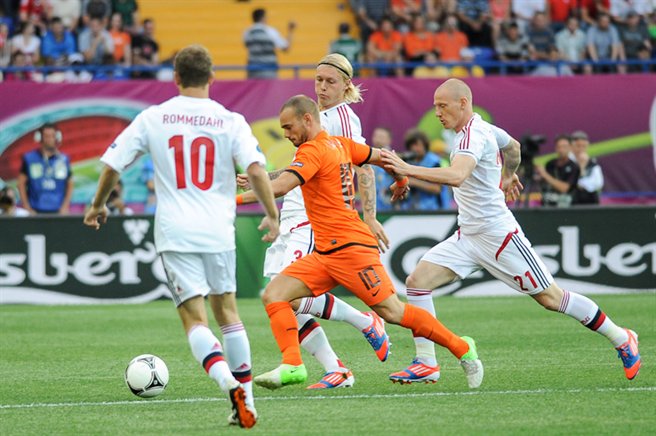 Sneijder thanks fans for giving Netherlands strength [divider]
Wesley Sneijder thanked the fans at the Amsterdam ArenA for giving the Netherlands national team strength in their 6-0 win against Latvia.
"It was nice to get a win from here," Sneijder said.
"Everyone will say it was only Latvia. But you have to do it. We have played in front of a full house and scored some fantastic goals tonight. "
"Earlier this week I could not say, but deep down we already knew that we would win this game.
"We owe this win to our fans. Everyone wanted to win this match we had to show that we still have a good team."
The Netherlands international played a full 90 minutes against Latvia.
Sneijder joined Galatasaray from Serie A side Inter for €8.4 million. The 30-year-old currently earns €3.2 million per-season and still has two-years left on his contract.
The Netherlands international lead Galatasaray to Turkish Cup glory last season and played an important role in Galatasaray reaching the Champions League quarter-finals.
Sneijder has scored three goals in 12 games for Galatasaray this season.