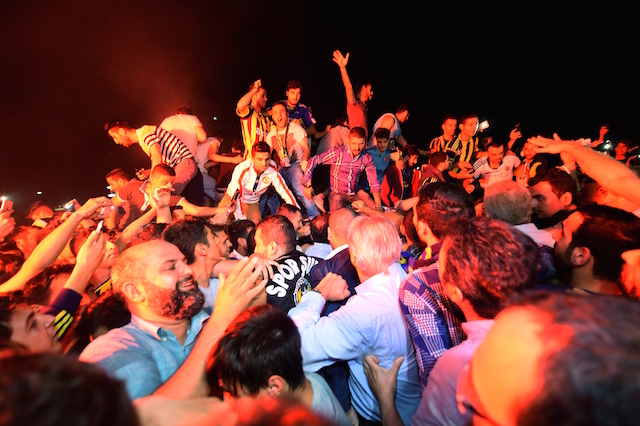 Fenerbahce drew Braga in the Europa League Last 16 draw today in the UEFA headquarters in Nyon, Switzterland.
The Yellow Canaries have faced Portuguese opposition eight times in European competitions winning four and drawing four.
The Istanbul giants will not exactly feel like strangers in Portugal considering seven players speak Portuguese. Additionally head coach Vitor Pereira and his coaching staff also happen to herald from Portugal.
We took a look at social media to look at how Twitter reacted to the draw.
Fenerbahce fans appeared to be pretty pleased with the draw with reactions ranging from caution over not underestimating Braga to outright celebrations.
Great draw!! No easy opponents at this stage but I'll take Braga with open arms 🙂 @Fenerbahce

— Jukkis Savolainen (@juginho1) February 26, 2016
@EnigmaticGS well looking at opponents, braga is weakest but fener have many players who understand portugese

— … (@Altan013) February 26, 2016
ohhh braga ohhhh pic.twitter.com/22ETQNXVJr

— ulu Pierre (@uluPierre) February 26, 2016
There was quite a bit of banter with some of the twitterati claiming that the Fenerbahce v Braga tie trumped the Liverpool v Manchester United fixture.
Obviously Fenerbahce v Braga is the biggest tie of the round followed by Sparta Prague v Lazio. Oh and there just happens to be the small matter of Tottenham v Borrussia Dortmund as well.
NEWS IN VIEW: Football hipster devoid of joy insists Fenerbahce vs Braga more exciting than United vs Liverpool. pic.twitter.com/4oAtgT2cpE

— TBN Sport (@TBNSport) February 26, 2016
Sarcasm?
Obviously Fenerbahce vs Braga https://t.co/blUfZya8RG

— Rameez (@Sychlops) February 26, 2016
Fenerbahce vice-president Nihat Özbağı seemed confident with his sides chances – perhaps a little too confident.
Nihat Özbağı, Fenerbahçe vice-president: "It's a good draw for us. Braga were the most suitable team that we could get." #UELdraw

— UEFA Europa League (@EuropaLeague) February 26, 2016
There was also a lot of interest in the Braga stadium which looks as if it has a mountain protruding from one of the stands.
The Braga stadium is carved into the face of the adjacent Monte Castro quarry and is undoubtedly one of the most unique footballing arenas in the world.
Braga maçlarını burada oynuyor. #uel pic.twitter.com/dVe03dv8hO

— 12 Numara .org- (@12numaraorg) February 26, 2016