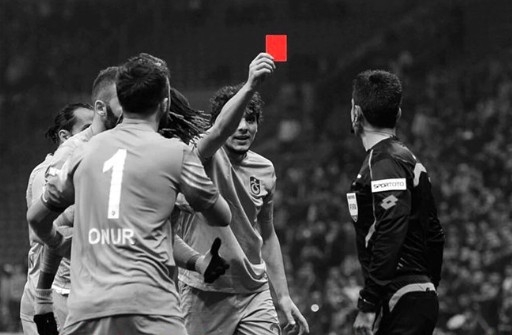 Trabzonspor midfielder Salih Dursun was involved in a bizarre incident during the 2-1 defeat against Galatasaray yesterday.
It all unfolded in the 87th minute following Galatasaray were awarded a penalty after Luis Cavanda brought down Umut Bulut in the box – the replays did however, show that the Belgium international did not make contact with the Lions forward.
Cavanda was outraged and pushed the referee resulting in him being given his marching orders by Deniz Bitnel.
Trabzonspor had by now been reduced to eight-men and were on the verge of going behind despite taking the lead in the first-half.
In the melee that followed the referee dropped his cards. Dursun picked up his red card and showed it to the referee – no I am not exaggerating he actually sent off off the ref.
When Bitzel eventually got his cards back he ended up sending Dursun off. Galatasaray captain Selcuk Inan then converted the penalty giving the Lions the lead for the first time in the game.
Despite four red cards and more drama than a Hollywood action film only one minute of additional time was given and only twenty seconds of that was actually played.
There was a social media storm after the game and Dursun was heralded as a hero with fans of rival teams and even top-tier clubs openly praising his actions.
The Dursun incident tipped the iceberg and resulted in a public backlash against Turkish referees and the football federation.
We took a look at social media to analyse the reaction of the fans and clubs to the Dursun incident.
ONLY IN TURKEY – Player red cards the ref .. Then receives a red card!!! pic.twitter.com/mA2etaJLNR

— Eren van Basten (@TurkzZ) February 21, 2016
Bursaspor came out in support of Dursun and went as far to declare him a heroic outlaw describing him as standing up for Anatolian football against the perceived injustice of referees against them – in with the more successful Istanbul sides.
Salih Dursun Trabzonspor'un değil, artık Anadolu'nun sembolüdür ve artık bizim de evladımızdır.

— Bursaspor (@BursasporSk) February 21, 2016
Trabzonspor also protested the decision and called the evening a dark page in Turkish footballing history.
Türk futbolunun KARA gecesi pic.twitter.com/Iv6LoB0lU4

— Trabzonspor Kulübü (@Trabzonspor) February 21, 2016
Sanliurfaspor also came out in defence of Dursun and underlined that they support his stance.
Hakem hatalarından en çok etkilenen kulüp olarak; Kardeş takımımızın futbolcusu Salih Dursun'un hareketini destekliyoruz! #Şanlıurfaspor

— Şanlıurfaspor (@SanliurfaSK) February 21, 2016
Dursun was not the first player to have ever shown the referee a red card. Former England international Paul Gascoigne did the same while at Glasgow Rangers but was only shown a yellow card as a result of his actions.
Salih Dursun joins Paul Gascoigne as one of the only 2 players to have shown the ref a red card during a game pic.twitter.com/1celIXDhPb

— Turkish-Football.com (@Turkish_Futbol) February 21, 2016
Trabzonspor Store chief Emre Aksoy revealed that the club will be selling t-shirts of Dursun showing the referee a red card starting from tomorrow.
Oyuncumuz, gururumuz Salih Dursun'un hakeme Kırmızı Kart gösterdiği An'ın T-Shirt'ü bu hafta TS Club'larda satışa sunulacaktır.

— EMRE AKSOY (@AKSGRUP) February 21, 2016
The Dursun incident was Twitter gold for Meme specialists and this has to be the pick of the bunch. Dursun is depicted as football's statue of liberty standing up for justice in the game.
Statue of Salih Dursun pic.twitter.com/DRKnThsdRO

— Erin-L (@sonersedefoglu) February 22, 2016
Even Dursun himself was probably not expecting such widespread support for his actions. This tweet pretty much sums up the general mood.
@TSBible ''Referee of the people, by the people, for the people.'' Salih Dursun

— Kaan (@kaanerdoyan) February 21, 2016
Trabzonspor were so outraged after the game that they took to the streets and protested outside the local Turkish Football Federation headquarters.
#Trabzonspor Fans am #TFF Gebäude angekommen!!! Fahne des Verbandes runter und Scheiben gehen zu Bruch!!! #Türkei pic.twitter.com/5jhCUNirNr

— Yener1907 (@YenerEsk) February 21, 2016
Şerefli mücadelenizde sonuna kadar yanınızdayız.ADALET İSTİYORUZ,HAYKIR KARADENİZ! @TFF_Org @Trabzonspor @FIFAcom pic.twitter.com/M8XA5hy3cU

— Ramazan basar (@Basar61Basar) February 21, 2016