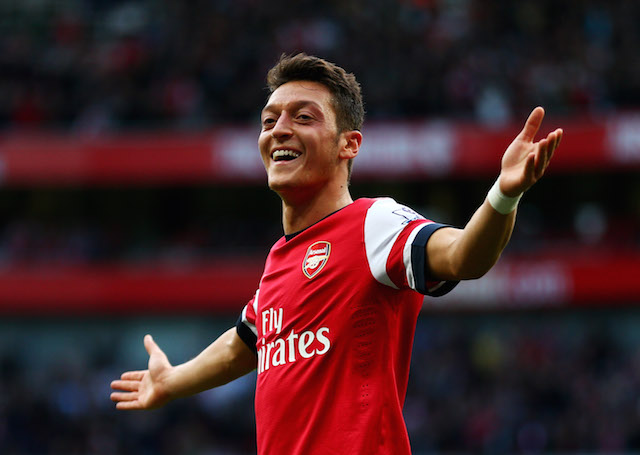 The Value of Superstitions and Beliefs in Mesut Ozil's Game
Aside from card players and lottery aficionados, athletes – football players in particular – have some of the most odd and fascinating rituals. On the surface, these superstitions may seem strange for the common man or woman. But as we put ourselves in these players' shoes, we often see how it creates a mentally satisfying assurance, a shield of protection so to speak, before participating in a high-pressure situation.
Certain players carry a principle that these specific actions, or types of behaviour, and even items, positively affect the outcome of their routine, according to Liam Blackwell's post on Believe Perform. Additionally, Michaela Schippers and Paul A. M. van Lange even wrote a paper on the emotional and mental advantages of superstitious rituals.
When playing the lottery, for instance, we often tend to rely on odd elements stemming from precise dates, days, and numbers. Sometimes even something as simple as the best odds and as inexplicable as horoscopes can make all the difference between winning and losing, according to this article entitled 'How to Win the Lottery'. However, for global football superstar Mesut Ozil, his bizarre pre-match rituals – ranging from believing in the greater powers to dressing up a particular way – have helped him to become one of the greatest creative players in the world.
Mesut Ozil has practically done it all in both club and international football. During his time with Real Madrid, Arsenal, and the German National Football team, he has captured the La Liga, the FA Cup, and the World Cup, respectively. Sky Sports pundit Charlie Nicholas of Sky Sports even describes him as an out-of-this-world footballer who is big enough for any stage. Despite all of these accomplishments, not many people know of his peculiar yet somewhat logical pre-match rituals.
For one, Ozil puts on his right boot first and ties his laces repetitively in knots as a way of influencing his performance on the pitch. It's an unusual way of tying his boots from the conventional ones. He says this helps him control the ball with the instep better, making it easy for him to manoeuvre on the field. Ozil playfully admits that even though he started this tradition when he was an academy player, he sometimes still forgets to wear and tie the right boot first. As a remedy to this, he removes all his footwear altogether, and repeats the process until he is safe in the knowledge he has executed it in the correct manner.
Another one of Mesut Ozil's quirks is stepping onto the pitch with his right foot first. For him, it's part of his strong religious beliefs, giving him a sense of unrivalled confidence every time. Based on an article by Two Circles, Ozil always recites the Holy Quran prior to a match. It's vital for his team to give him the proper space and moment to reflect and connect with a higher being. It's also one of the reasons why he habitually looks and plays calm and composed every game.
Essentially, superstitions and beliefs are just there to provide blankets of safety for the mind of a player. At the end of the day, these are only mere representations that aid Mesut Ozil to gain the correct mind frame for him to perform to the best of his ability week-in-week-out.