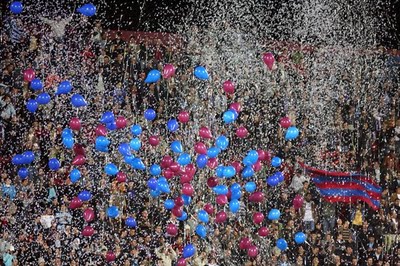 Trabzonspor 3 – 2 Konyaspor
Trabzonspor recorded their second win of the season in the Super League today against Konyaspor.
The Black Sea Storm's fans would of been fearing the worst when they went behind after just seven minutes to a Hasan Kabze goal however, new transfer Cardozo levelled the score 11 minutes later.
Yilmaz Erdogan went on to make it 2-1 to the home side after 30 minutes.
Konyaspor re-grouped during the break and started the second half well. Their efforts were rewarded with a goal in the 49th minute of the game.
Trabzonspor move back onto the front foot towards the latter stages of the game and star man Cardozo struck again in nthe 77th minute earning his side the win.
Stadium: Hüseyin Avni Aker
Referee: Özgür Yankaya
TRABZONSPOR: Fatih, Bosingwa, Belkalem, Mustafa Akbaş, Salih, Medjani, Mehmet Ekici, Cosntant, Yusuf, Özer, Cardozo
KONYASPOR: Belec, Ali Turan, Tolga, Kokalevic, Emre, Mehmet Güven, Hleb, Torje, Uğur İnceman, Campos, Hasan Kabze