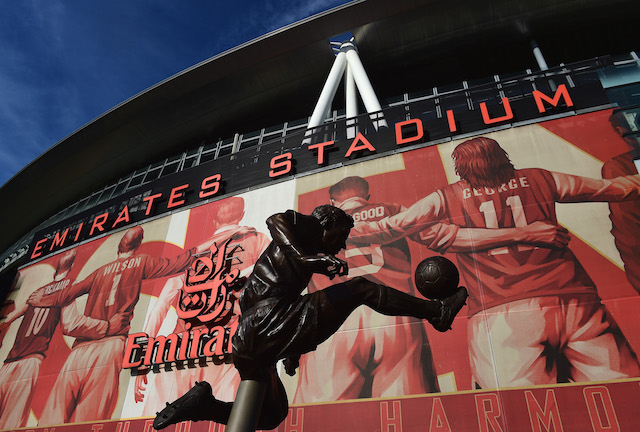 Football and swearing go hand in hand but profanities on television services before the watershed can cause a spot of bother for broadcasters as Turkish state radio and television channel TRT found out yesterday at the Emirates.
Match commentators Yalcin Cetin and Omer Urundul were busy covering the Arsenal v Barcelona game until their voices became overshadowed by an Arsenal fan f'in and blinding.
The swearing grew ever more vocal as the game went on and TRT were forced to pull the plug on the live commentary on 65 minutes when Jordi Alaba and Olivier Giroud started throwing handbags as the swearing and insults reached fever pitch.
The two commentaries had been placed in an overspill area very close to the home support but let's just say they were not exactly down with the fans and soon evacuated their area.
The incident sparked a social media storm with Twitter finding the whole incident rather hilarious. Tweeters shared pictures of who they thought was responsible for shouting down the speakers with a few pinning the blame Arsenal Tv legend Claude.
TRT de yayınını kestiren Arsenal-Barcelona maçındaki dayı… pic.twitter.com/sjvzV824e0

— Can Yılmaz (@canyilmaz1) February 23, 2016
Other tweeters were disappointed that TRT cut the entertaining live commentary. This tweeter urges the Arsenal fan swearing at the players and the referee to keep up the good work.
Arsenal taraftarı dayı az önce yine birini küfürle dümdüz etti. Durma dayı devam. TRT tarihinde böyle aciz duruma düşmedi asiajahhahshdhhd

— Brazzers'takiKelAdam (@bztka) February 23, 2016
TRT did however, continue commentary from their studios in Turkey safe from the raucous home fans.
See More
Three reasons why Tottenham should sign 'new Mesut Ozil' Yunus Malli
Three reasons Liverpool should keep Lazar Markovic