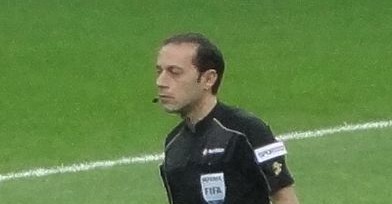 Turkish FIFA International Referees List Announced [divider]
The Turkish Referee Committee (MHK) have released the Turkish FIFA approved International Referees List.
Cüneyt Çakır heads the list and Hüseyin Göcek, Halis Özkahya, Tolga Özkalfa, Barış Şimşek, Mete Kalkavan and Ali Palabıyık are all included.
FIFA requires that referees on the list meet a certain criteria before being accepted.
Referees must pass fitness tests consisting of a series of 40 and 150 metre sprints.
The referees must pass a number of other fitness and medical tests. Also referees must be aged between 25-44 to be eligible for inclusion on the list.
Bülent Yıldırım and Fırat Aydınus have not been included on the list, Yıldırım has been involved in a number of controversial incidents this season.
Despite criticism for being a little too card-happy the International Federation of Football History and Statistics (IFFHS) named Çakır as the fifth best referee in the world.
Çakır averages 4.11 yellow cards per game, 0.21 red cards per game and 0.27 penalties per game.