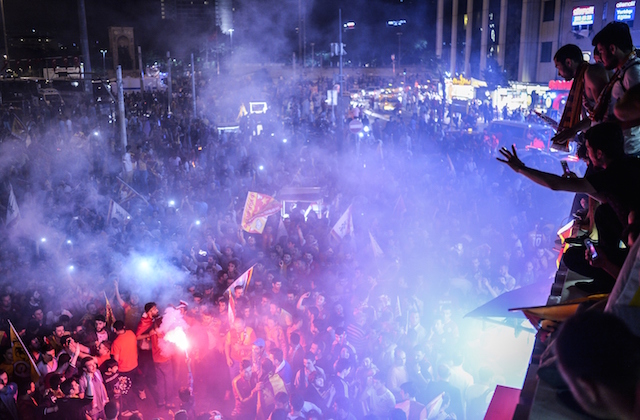 Turkish teams have to change – fast 
By Thomas Wyer
The last time the Sword of Islam came down upon Istanbul, Mehmet 'Fatihi' I established himself as a figure of popular fear in the minds of Europe. At the juncture of the Bosphorus, a World Empire was born, an Empire of many nations, four seas and two continents. As he entered through the Edirne Gate the Sultan, never a man given to understatement, surely knew that Europe quaked at his passing.
Five hundred years and six thousand kilometres away, as Sporting Lisbon's Islam Slimani reversed Mario Gómez's opener, the Algerian surely did not have in his mind either the great Ottoman Conqueror or the 3-1 scoreline by which the Portuguese club would ultimately come to defeat a limp Beşiktaş side. Yet, in the space of nine minutes, Sporting would add two more, and Beşiktaş would topple from sitting at the top of the group to tumbling out of the Europa League altogether. Şenol Güneş must have been left wondering just what he did wrong.
This is a familiar story; for all the hubris of Galatasaray, they were unable to convince even Kazakh minnows Astana of their credentials as Avrupa Fatihi, the Conquerors of Europe. No longer does Europe quake at a Turkish threat; ultimately, only Fenerbahçe qualified from any European group, and that with a flaccid draw against a miserable Celtic side who failed to win a single European fixture. In the end, Turkey's biggest hero in Europe was Barıs Şimşek, the additional assistant referee whose excellent decision gave a floundering Chelsea side a much needed goal against FC Porto.
One could blame poor players. One could blame arrogance. One could even blame luck, with which Hakan Balta might not have turned the ball into his own net in Kazakhstan and may have allowed the Lions to gain some momentum in Europe. Yet football is neither a game for excuses nor for the second best. Ultimately, Europe's premier footballing competition will have no Turkish representation this season.
For all that they are letting themselves and their fans down, the crime of Turkish clubs is more egregious still, in letting Turkey down. For all the enormous potential of the Turkish Süper Lig, Istanbul's 'Big Three' are squandering the opportunity of a generation.
Yet it's more than just a missed opportunity; Turkish football is under threat. If Turkish clubs do not improve now, they risk being cast into oblivion. Even as the glory of Sultan Mehmet gradually ceded pre-eminence to the decay of Abdülhamid II, so Turkey again is gambling with becoming insignificant in a world around modernising far faster.
Turkey has potential; yet, perhaps more so, do China and America. And both are taking the game far more seriously. With news last week that the MLS have given Miami Beckham United the green light for their new stadium, a new franchise is set to be born in Florida bearing all the media power and commercial acumen of its founder.
This is another feather in the cap of MLS Commissioner Don Garber, who since 1999 has overseen huge transformations in burgeoning American football. It was Garber's resolution that was instrumental to the foundation of a team in America's second city; having pushed Ferran Soriano for a team under the auspices of Barcelona in 2008, when Soriano became CEO of Manchester City in 2012, New York City FC was set in motion. Fast forward to today and New York boast a stellar cast including David Villa, Andrea Pirlo and Patrick Viera.
It could be argued that Turkey simply cannot compete with the linguistic and lifestyle barrier; Anglophonic players would far rather move to play in the US, whilst David Beckham's lifestyle could be sated by Los Angeles far better than Istanbul. Yet China goes against this.
Turkey does not have the same economic standing as China; few do. There is no Turkish equivalent of Li Ruigang, who can both purchase 13% of City Football Group for $400 million and buy the broadcasting rights for the Chinese Super League for $1.3 billion, much less place this in the context of a wider business strategy to gamble on the consumption of mobile content. Yet the Süper Lig is currently selling for very little at all. Outside of Turkey, only in Germany is it regularly streamed.
Nor is it likely that a businessman is set to buy a 50% stake in a Turkish club for around $192 million; Turkey's business community simply cannot support it. Nevertheless, Turkish clubs are not selling stakes for anything at all. Rather, they're old boys' networks, anachronistic collections of pashas and janissaries past their sell by date yet clinging onto their private fiefdoms. And whilst it is hard to compete with America, if China can do it Turkey has no excuse.
China has neither the fanbase to compete with Turkey nor the domestic quality, yet Sven-Göran Eriksson, Marcello Lippi and Luiz Felipe Scolari all felt China a better place to end their careers. Two of these have won World Cups. In recent months, Chinese clubs have been linked with Wayne Rooney, bid for Odion Ighalo and signed Robinho. China is growing, fast.
With Chinese premier Xi Jianpeng pushing a 'football revolution', seeking to develop youth talent with the aim of winning the World Cup, Turkey should be worried. One only has to look at the effort made prior to the 2008 Olympics to see how devastatingly effective a mass Sino effort on sporting development can be. The threat isn't just that China is competing with Turkey now – it's that the Süper may be easily eclipsed by the Super League in terms of indigenous talent within a generation. Recep Tayyip Erdoğan seems to have little interest in overseeing a national programme of football development.
Turkey can't compete with the wealth of China. Turkey can't compete with America when it comes to attracting Anglophonic players. Yet Turkey can't be left behind. In the Champion's League, Turkey has a crucial advantage. No amount of Chinese money and no number of MLS franchises can transcend geography; Turkey's position in Europe is a key weapon. So long as the great carrot of the Champion's League remains in Turkish hands, players like Wesley Sneijder, Robin van Persie and Didier Drogba will choose to ply their trades in Turkey.
Yet this requires Turkish teams to actually compete in Europe. For every limp season like this, the attraction of America, or China, or any number of developing countries to the stars of the Süper Lig becomes greater still. China too suffered from mass match-fixing crises in the early decades of the millennium, yet today these are forgotten; China, it seems, has found the ability to problem solve. If Turkey won't organise football better than America, won't undertake a modernisation process like China, then they must succeed in Europe.
This isn't an opportunity, it's a necessity.