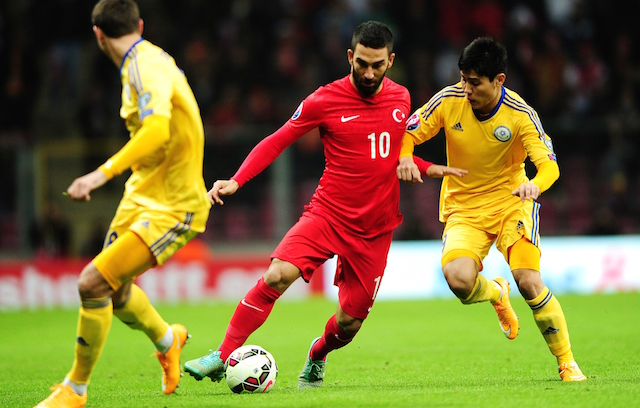 Barcelona star Arda Turan caused a social media storm a few months back when he challenged Birkan Batuk to a basketball challenge.
Turan challenged Batuk to a shoot off with a unique twist. The bearded winger would shoot hoops with his feet while Batuk took traditional shots with his hands.
The Turkish international winger filmed himself shooting a hoop with a back heel back in November.
Gerçi dün her attığını soktun ama diyorum ki "ben ayakla sen elle" var mısın?.. @birkanbatuk 😉 pic.twitter.com/ndKJy8A3n9

— Arda Turan (@ArdaTuran) November 27, 2015
Batuk responded today scoring a long range shot to tie 1-1 putting the ball in Turan's court and challenged him to go one better.
Kaptan iyi seneler. 7 numara hayırlı olsun. İddiayı unutmadım. Şimdilik 1-1. Hamle sırası sende. @ArdaTuran pic.twitter.com/hpl6whgzZY

— Birkan Batuk (@birkanbatuk) January 4, 2016
Turan issued a response saying that he has a surprise in store but that Batuk would have to wait until after the Espanyol game.
Buzzer beater. Ama senin için sürprizlerim var. İlk maç geçsin ilgileneceğim kardeşim. Ben bitti demeden bitmez… https://t.co/gt9wFQSHnt

— Arda Turan (@ArdaTuran) January 5, 2016
Turan will be hoping to make his official Barcelona debut against Espanyol in the Spanish Cup Last 16 first-leg i.e. at the Nou Camp.
The Turkish international did actually join Barcelona last summer but due to the FIFA transfer ban the club was unable to register him until yesterday when he also received his number 7 shirt number.
See More
7 Barcelona players to have worn the No 7 shirt – The Magnificent 7
Three reasons Arda Turan could be a success at Barcelona