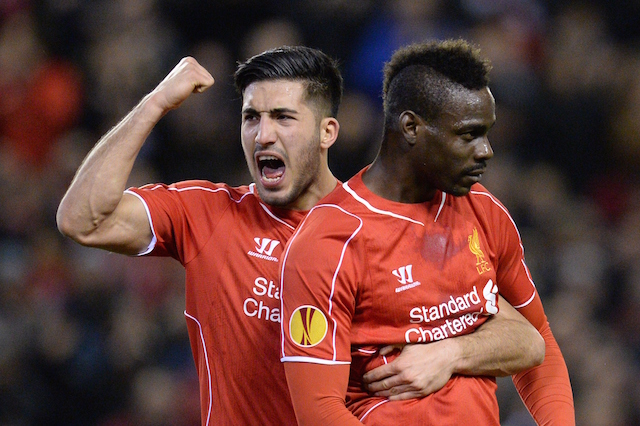 Liverpool star Emre Can made his first start of the pre-season against Roma yesterday. The Reds ended up losing the game 2-1 but the 23-year-old game the fans something to cheer about.
The Germany international of Turkish origin managed to pull off a near perfect bottle flip mid-game.
For those who have never heard of the Flip Bottle challenge it involved flipping a bottle with some water inside – or any other liquid – and trying to get it to land upright.
Did Emre Can pull off the greatest Bottle Flip challenge the world has ever seen? If anyone Can, Emre Can #LFC pic.twitter.com/kUhXARTXWP

— Turkish-Football.com (@Turkish_Futbol) August 2, 2016
Liverpool fans who spotted what Can pulled off were pretty express.
WTF ANYONE ELSE SEE THE EMRE CAN WATER BOTTLE FLIP

— Ayub Ali (@ayubali2013) August 2, 2016
EMRE CAN JUST DID THE WATER BOTTLE FLIEP WHAT A GOD GIVE EM THE ARMBAND #LFC

— Rob (@DivockTheCasbah) August 2, 2016
Anyone else see emre can throw his bottle on the ground n it landed upright?😱😂#LFC #LFCtour #LFCRoma

— Luke Rouse (@LukeRouse17) August 2, 2016
The flip bottle challenge sparked a social media storm and Can has waded intentionally or unintentionally right into the thick of it.
And to be fair to him it was a pretty outrageous bottle flip as he managed to throw it from the side of the pitch high in the air and get it to land upright.
The video has not gone viral yet but bottle flip challengers will probably be pretty impressed once they feast their eyes on what Can managed to pull off.
Here is a more traditional Flip Bottle Challenge: