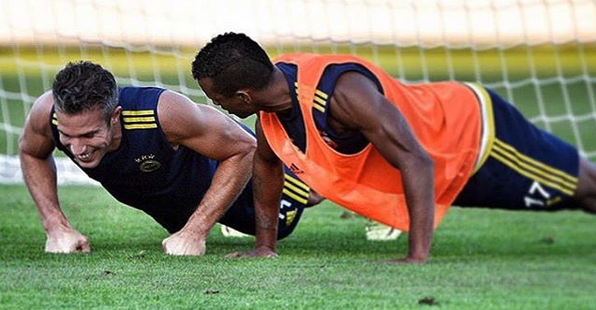 Fenerbahçe beat Mersin 3-1 away from home to score three times in a single game for the first time this season.
Hasan Ali Kaldırım opened the scoring on 8 minutes giving Fenerbahçe the lead going into the half time break.
Former Manchester United winger Nani doubled the Yellow Canaries lead just four minutes after the interval and Robin van Persie ended the game with his sixth goal of the season on 57 minutes.
Nakoulma did pull one back for Mersin two minutes later but it turned out to be nothing more than a consolation goal.
https://twitter.com/Turkish_Futbol/status/668464975619444737
MERSİN İY 1-3 FENERBAHÇE
Stadium: Mersin
Referee: Alper Ulusoy, Mustafa Emre Eyisoy, Cevdet Kömürcüoğlu
MERSİN İDMANYURDU: Muammer Zülfikar Yıldırım, Servet Çetin, Mitrovic, Nurullah Kaya, Sadiku, Serkan Balcı, Güven Varol (min. 57 Sinan Kaloğlu), Eren Tozlu (min. 46 Nakoulma), Khalili, Oktay Delibalta, Pedriel (min. 77 Tita)
Manager: Bülent Korkmaz
FENERBAHÇE: Volkan Demirel, Gökhan Gönül, Kjaer, Alves, Hasan Ali Kaldırım, De Souza, Mehmet Topal, Alper Potuk (min. 75 Volkan Şen), Diego (min. 70 Ozan Tufan), Nani, Van Persie (min. 65 Fernandao)
Manager: Vitor Pereira
Goals: min. 8 Hasan Ali Kaldırım, min. 49 Nani, min. 57 Van Persie (Fenerbahçe), min. 59 Nakoulma (Mersin İdmanyurdu)
Red Card: min. 84 Nurullah Kaya (Mersin İdmanyurdu)
Yellow Cards: min. 67 Pedriel, min. 80 Servet Çetin (Mersin İdmanyurdu)