There is rarely a dull moment in Turkish football and yesterday was no exception as Trabzonspor president Ibrahim Hacıosmanoğlu gave orders to keep referee Çağatay Şahan and his assistant officials hostage in the stadium until he arrived in the morning.
The incident kicked off after Şahan failed to award a penalty after Gaziantepspor defender Aroyoko handling the ball in the box just before the final whistle. The Trabzonspor players made their feelings abundantly clearly wildly protesting the decision.
The replays showed that the ball was handled but the referee either missed the incident or deemed it not to be intentional.
The game ended in a 2-2 draw but the real drama did not start until after the final whistle. Şahan and his team were locked inside the dressing room area by club officials and an angry mob gathered outside the stadium.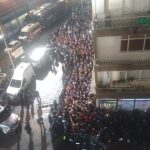 The referee's were locked away until the president of Turkey Recep Tayyip Erdoğan personally intervened.
"I told them to not let the referees leave until the morning, until I arrived but a very important person called my and said let us cause embarrassment in Turkey and around the world but he promised the incident would be investigated," Hacıosmanoğlu said after the game.
Şahan and his officials were eventually released after four hours at 03:47 and escorted by special forces away from the stadium.
Hacıosmanoğlu went onto cause further outrage this time from women's rights groups after he defended his actions by saying: "I would rather live as a man for a year than like a woman for 100 years."
The bizarre outburst did not go down particularly well with women and whipped up another social media storm.
The refereeing committee has requested a full investigation and have threatened to go on strike if necessary action is not taken.
See More
Four reasons why Liverpool star Emre Can will succeed under Jurgen Klopp
Mesut Ozil is the reason Arsenal are top of the table says Thierry Henry