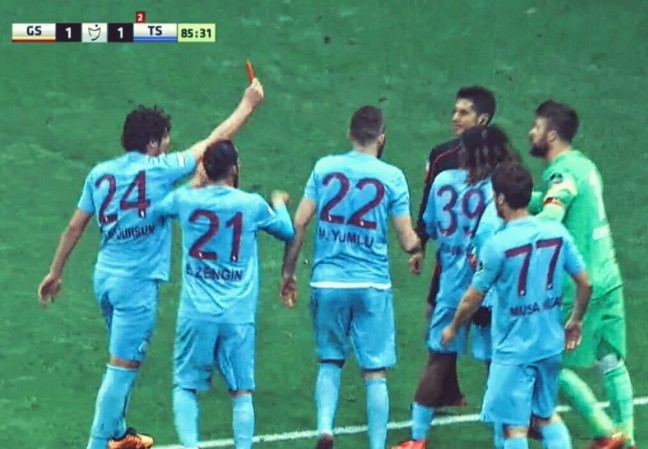 Galatasaray beat Trabzonspor 2-1 at the Turk Telekom Arena in what has to be one of the most bizarre games of the season.
Trabzonspor took the lead from the penalty spot on 25 minutes and looked in total control going into the half-time break.
The second half did not start well for Trabzonspor. Ozer Hurmaci was sent off on 59 minutes and Lukas Podolski equalised for a few minutes later.
It got even worse for Trabzonspor when Aykut Demir was sent off on 70 minutes but Galatasaray were unable to find a way through until the referee awarded a controversial penalty decision in favour of the home side.
The replay showed that Cavanda did actually get the ball but he pushed the referee after the penalty call in an act of rage and was also given his marching orders.
Salih Dursun was so furious with the decision that he stole the referee's cards and showed him a red. The ref did not see the funny side and ended up sending him off leaving the team with just seven men.
Selcuk Inan converted from the penalty spot to give Galatasaray the victory over 7-man Trabzonspor.
GALATASARAY – TRABZONSPOR
STADIUM: TT Arena
KICK-OFF: 17.00 GMT
REFEREE: Deniz Ateş Bitnel
GALATASARAY: Muslera, Sabri, Koray, Hakan, Carole, Chedjou, Donk, Selçuk, Podolski, Olcan, Umut
MANAGER: Mustafa Denizli
TRABZONSPOR: Onur Recep Kıvrak, Cavanda, Mustafa Yumlu, Aykut Demir, Yusuf Erdoğan, Bosingwa, Özer Hurmacı, Erkan Zengin, Marin, Sefa Yılmaz, Muhammet Demir
MANAGER: Hami Mandıralı
GOALS: min. 25 Erkan Zengin (penalty) (Trabzonspor), min. 63 Podolski, min. 89 Selçuk İnan (penalty) (Galatasaray)
RED CARD: min. 59 Özer Hurmacı, min. 70 Aykut Demir, min. 86 Cavanda & Salih Dursun (Trabzonspor)
YELLOW CARDS: min. 70 Podolski, mni. 79 Sneijder (Galatasaray)