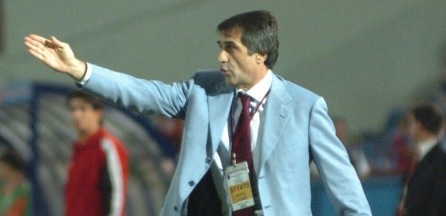 Volkan had no right to abandon his team says Şenol Güneş [divider]
Volkan Demirel had no right to abandon the Turkish national team according to Bursaspor manager Şenol Güneş.
"Volkan should not have abandoned his team," Güneş said.
"If it had happened to me I would have been upset as well but if a Bursaspor player comes to me tomorrow last minute just before the game and says I am not going to play I would remove him from the squad.
"How is this going to work if everyone runs off whenever they face stick? At Ankara, during the Wales game the fans said every insult you can think of towards me but did anyone storm off the pitch?
"There are rules against this, the rules are clear, if you do what Volkan did you are breaking the rules. 
"This is the real problem here, there are rules but they are not enforced, everybody should be treated equally in accordance to the rules."
The Turkish international goalkeeper stormed off the pitch during the pre-match warmup and refused to play after his own fans swore at him.
Demirel's private security attacked reporters by the private security of Demirel.
Güneş who is currently manager of Bursaspor, lead Turkey to an unprecidented third-place finish at the 2002 World Cup.