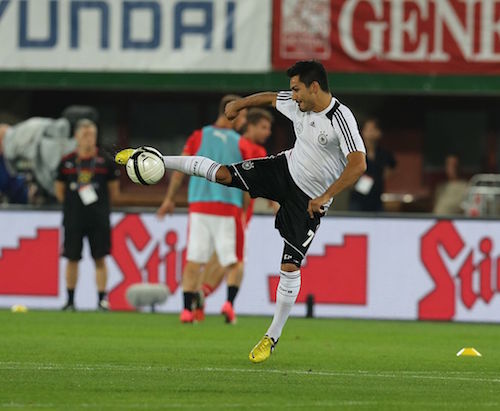 Borussia Dortmund are yet to received an offer for their star midfielder Ilkay Gündoğan according to the clubs sporting director Michael Zorc.
Manchester United have been closely linked with the 24-year-old over the past week and the British newspaper Metro have claimed that the Red Devils had agreed a €30 million deal with the Bundesliga club.
However, Zorc has played down any talk of a deal but confirmed Gündoğan is likely to leave in the Summer.
"Our talks came to the conclusion that he won't extend his contract and will leave in the summer," Zorc told local newspaper WAZ.
"But that depends on what offers land on my table and until now we have received no offers for Gündoğan."
See More:
More Ilkay Gündoğan News
3 reasons why Arsenal should sign Gundogan
3 reasons why Manchester United should sign Ilkay Gündoğan
Manchester United prepare €28 million bid for Ilkay Gündoğan
Gündoğan has confirmed that he will not extend his contract with Dortmund, which expires in the July 2016.
The 24-year-old has four assists and three goals in 29 appearances for Dortmund this season.
Dortmund sit in 9th place in the Bundesliga with 40 points in 31 games. Jurgen Klopp's side are 18 points off a UEFA Champions League spot.
Jurgen Klopp will depart Dortmund at the end of the season after a seven year spell in charge. Klopp will be replaced by former Mainz coach Thomas Tuchel.