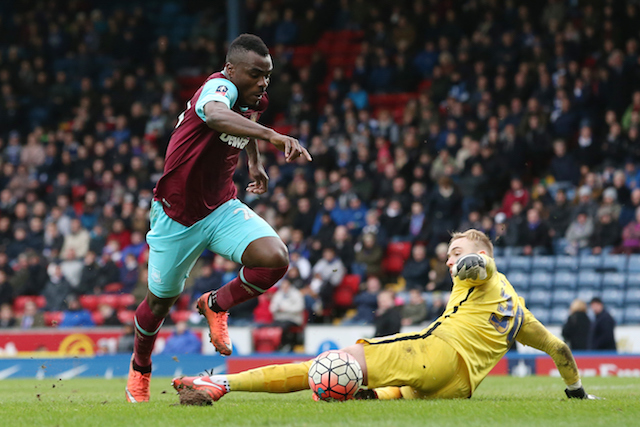 West Ham suffered a blow to their hopes of clinching a Champions League spot following a 2-2 draw against Crystal Palace in the London derby.
On-loan Fenerbahce striker Emmanuel Emenike started for the Hammers but was unable to add to his goal tally.
We took a look at social media to find out what West Ham fans made of his performance.
There was quite a lot of excitement – or sarcasm – regarding Slaven Bilic's decision to start with Emenike.
Emenike hatrick is coming…watch

— West Ham Transfers (@westhamtransfer) April 2, 2016
And another one.
To be fair I thought Emenike looked good against Chelsea when he came on and played right wing. Think he'll do well today

— West Ham Stuff (@WestHamStuff) April 2, 2016
It was no wonder there was quite a lot of hype revolving around the decision to start with Emenike after he pulled this off in training leading up to the game.
Emenike laying off a penalty for Payet in training today. pic.twitter.com/GovwkzLccy

— West Ham Central (@WestHam_Central) April 1, 2016
The Nigerian international's actual performance did however, draw mixed reviews.
Emenike is powerful running but zero end product. Just given us legs up top end of season. Glad we ain't signing him.

— Brownie (@WestHamMatters) April 2, 2016
Some called for Emenike to be returned to Fenerbahce.
@NigelAdams15 also, I know Slav likes Emenike but he isn't fit for purpose. Harsh I know but he ain't.

— Eugene Gaughan (@eugene_gaughan) April 2, 2016
But not everybody had harsh things to say about his display on the day.
I think Emenike is actually pretty good.

— West Ham Transfers (@westhamtransfer) April 2, 2016
Others thought Emenike should not have been brought off for Andy Carroll.
@WHUFC_News without being majorly threatening, thought emenike did ok today, would have kept him with Carroll worked at United

— Chris Betts (@ChrisBetts82) April 2, 2016
@eugene_gaughan. I think the points were more or less in the bag before the sending off, I'd like to see more of Emenike before judging him

— Nigel Adams (@NigelAdams15) April 2, 2016
And we saved the best until last.
EMENİKE > RONALDO+MESSİ

— Çiko (@cikoooo2) April 2, 2016