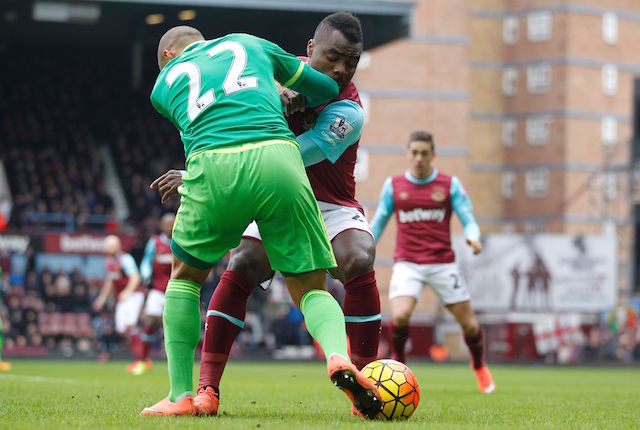 West Ham held Premier League leaders Leicester City to a 2-2 draw at the King Power stadium.
On-loan Fenerbahce striker Emmanuel Emenike was given a spot in the starting line-up by Slaven Bilic but he was not given an easy ride by the Hammers faithful.
We can't tell if this tweet was serious or sarcastic but at least some fans were looking forward to seeing Emenike start.
Emenike is going to open this title race wide open and send us 1 point off 5th

— West Ham Transfers (@westhamtransfer) April 17, 2016
It went down hill from there as far as tweets regarding Emenike were concerned.
@whufc_official things wrong with this team
1) Antonio at RB
2) No Randolph
3) No Lanzini
4) Emenike starting
5) No Randolph
6) No Randolph

— Cartlon Cole (@_CarltonCole9) April 17, 2016
Considering Emenike was dispossessed twice and lost the ball four times the following tweeter does make a strong points.
Some players I don't really trust with the ball (not particularly saying they are bad):

Adrian
Reid
Song
Moses
Emenike
Valencia

— West Ham Central (@WestHam_Central) April 17, 2016
The general feeling seems to be that the fans do not want the Nigerian international at the club next season.
Summer bin list:
▪️Enner Valencia,
▪️Emmanuel Emenike,
▪️Joey O'Brien,
▪️Victor Moses,
▪️Elliot Lee,
▪️Alex Song,

— West Ham Forum (@WestHam_Forum) April 17, 2016
If the fans were in charge Emenike's loan stay would probably be ended tomorrow.
Send Emenike back now

— West Ham News (@WHUFC_News) April 17, 2016
There were however, some fans that pointed out Emenike may not be entirely to blame as he was left isolated upfront.
Emenike is so isolated. Our performance in attack is scarily similar to last season's. We creativity. Leicester so comfortable

— West Ham News (@WHUFC_News) April 17, 2016
Emenike seems to be struggling to adapt to Premier League football but he has only been at the club since January.
Emenike is so out his depth

— prime terrnce mujee (@Terrencentro) April 17, 2016
Ouch!
Emenike is unquestionably one of the worst players I've seen play for West Ham

— Jack Lofts (@Jack_Lofts) April 17, 2016