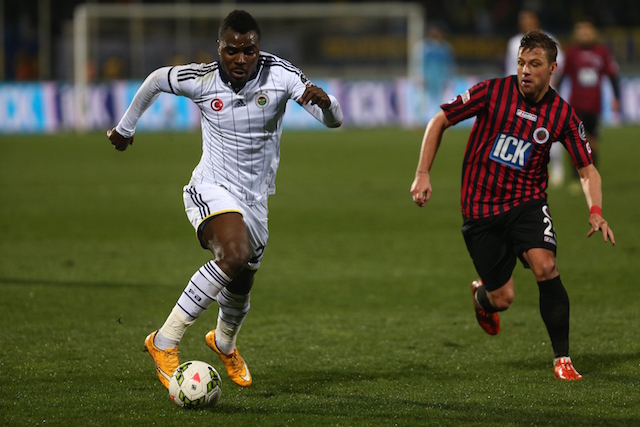 Emmanuel Emenike scored a brace on his full debut for West Ham during the 5-0 victory over Norwich City in the FA Cup 5th Round.
Emenike joined the Hammers on a six-month loan last month from Fenerbahce were he struggled last season.
Former Fenerbahce boss Ismail Kartal does however, believe that the reason Emenike underperformed is because he fell out with the fans.
Kartal underlined that Emenike thrives on confidence and that his form can vary drastically based on emotional factors.
"Emenike is a player that thrives on confidence, our fans made him lose his confidence and as a result we could not get what he expected from him," Kartal said speaking on NTV.
Kartak stated that Emenike was technically his best striker but that because of the circumstances with the fans he failed to reach his potential.
"Emenike was clearly our most dangerous player but we could not get the crowd behind him. Had the crowd got behind him I am certain he would have thrived. 
"I just wanted him to score a few goals and get the crowd back on side. I knew if he got a few goals the fans would have been behind him again but it just did not work out unfortunately."
Emenike fell out with Fenerbahce fans during the Istanbul derby last season when he missed a great chance early in the first half to put Fenerbahçe ahead and was heckled by the the home supporters afterwards.
The 28-year-old reacted by taking off his shirt and abandoned the game.
Fenerbahçe manager Ismail Kartal and his technical staff had to stop Emenike from walking down the tunnel.
Kartal eventually managed to convince Emenike to put his shirt back on and return to the game.
https://twitter.com/onlinefenernet/status/688020745457381376
See More
3 reasons Emenike could be a success at West Ham
Three reasons Liverpool should keep Lazar Markovic