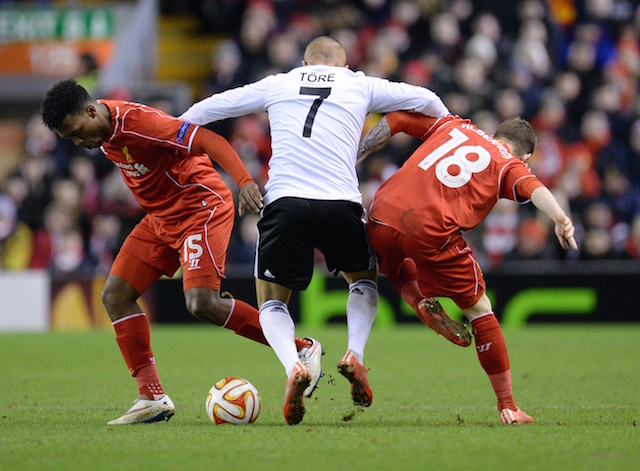 Chelsea sent as many as 35 players out on loan last season, many will never end up playing for the Blues and few will end up being the stars they were tipped to become.
The same applies to Manchester United, Arsenal and most other top Premier League clubs. Few youngsters who move abroad end up making it back.
Well that is where Gokhan Tore and Paul Pogba differ. After a few years abroad both are back in the Premier League and both have improved – drastically.
Pogba left United four-years ago for Juventus. Red Devils legend Paul Scholes claimed that he was not good enough at the time: "Paul was in that squad and the truth is that while he obviously had bags of potential, he was not really playing well enough in that period up to Christmas 2011 to warrant a place in the first-team squad on a permanent basis, let alone start games."
Four years later, after winning four Serie A titles as well as two Italian Cup trophies, United had to accept they made a costly error and pay over £100 million to bring the French international back.
Tore meanwhile left Chelsea a year earlier than Pogba left United. The explosive winger was signed to the Blues youth academy in 2009 by Frank Arnesen – former head of talent scout for Chelsea.
Arneson brought Tore with him when he moved to HSV Hamburg however, a series of injuries saw the Turkish international struggle to settle in.
Tore later joined Rubin Kazan where things did not work out after which he was loaned out to Besiktas before signing for the club on a £4 million transfer in 2014.
It was at Besiktas that Tore was taken under the wing of current West Ham boss Slaven Bilic. Tore finally started living up to his reputation as one of the brightest talents in Turkish football.
Tore and Bilic clicked from the get go. The 24-year-old scored his first league goal under his command and established himself as one of the most sought after players in the league.
The Turkish international scored a career high eight goals and provided 11 assists in Bilic's final season in charge including impressive performances against Tottenham and Liverpool in the Europa League.
Bilic was like a father figure to Tore and one of the few managers who has been able to get the best out of his talent while controlling his wild side – which almost cost him his career.
Pogba and Tore share a similar upbringing. The United star was born in France to immigrant parents and grew up in the not-so-pleasant town of Roissy-en-Brie. Tore meanwhile is part of the Turkish community of Germany and had a troubled childhood.
Tore was given up for adoption shortly after his birth in Koln, Germany. His grandparents were however, able to win back custody when he was two and it was his grandfather Sabri who introduced him to football.
The fiery winger grew up in a rough part of town but his grandfather made sure he focused on football, taking him to training every week until he passed away aged 14. His final wish was for Tore to play for the Turkish national team and just a year later he broke into the setup makings debut on August 10 2011.
Tore soon established himself as one of the most dangerous players on – and off – the field. His now notorious  altercation with international teammate Omer Toprak and Hakan Calhanoglu which resulted in a gun being drawn cast a shadow over him. Then in 2014 a stray bullet hit him in the shoulder after a fight broke out at a nightclub. Luckily he was not severely injured and this time he just happened to be at the wrong place at the wrong time.
Bilic did however, manage to get his star man to knuckle down and focus on his game. Under his stewardship the winger established himself as being a cut above most of his peers. Tore is by no means an angel but he has matured and returns to England having won the Turkish league.
Tore and Pogba will both be competing in England after spending a few years abroad perfecting their craft. Their journey will serve as an inspiration to budding young talents forced into trying their luck abroad after rising through the ranks of cutthroat Premier League academies.
See More
West Ham winger set off 'Tore-ing' trend in Turkey