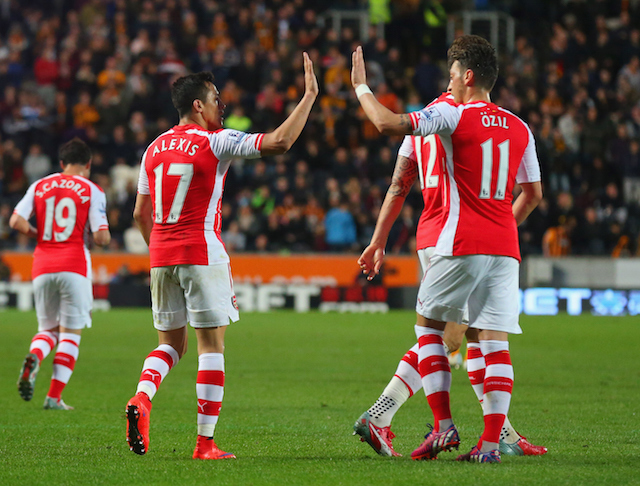 10 PLAYERS TO BET ON TO BE TOP GOALSCORER NEXT SEASON
Who's going to be the number 1 goalscorer of the season is always one of the biggest topics of debate among fans. Betting sites are quick to offer their odds on players across the divisions and it's always interesting to see their predictions. After looking at the odds, I have created a list of the 10 players who I believe stand a strong chance of being the top goalscorer next season.
Defying all odds, Tottenham Hotspur striker Harry Kane successfully retained the Golden Boot for the Premier League season 2016/2017. He managed to add 29 more goals to an already glorious score of 25 which he had bagged in the previous season. The only difference in this year's campaign was that the top England striker suffered a couple of ankle injuries which side-lined him for nearly eight Premier League games. This means that Kane played 30 of the 38 matches last season. This is the joint lowest number of appearances by a Premier League Golden Boot winner. However, it is important to note that Michael Owen won the Golden Boot back in 1998/1999 by playing only 30 matches as well.
Nevertheless, Harry Kane's accomplishment is considerable seeing as Michael Owen only managed to score 18 goals from the 30 matches he played almost two decades ago. On the contrary, the England marksman managed to put the ball in the back of the net 29 times in 30 games last season. This achievement also makes him the first player to have the highest goals per game, at a ratio of 0.97 as a Golden Boot winner in the PL era.
The race for the Golden Boot was very tight last season where it was contested between Harry Kane, Romelu Lukaku and Alexis Sanchez till the final week. The Spurs man Kane trailed Lukaku by two goals with two matches in the 2016/2017 season. However, the team scored 13 goals against Leicester and Hull City in its last two games, out of which Kane scored seven with four to spare over the Everton forward.
The Belgian striker is the second favourite in the top goal scorer just ahead of Sergio Aguero. Aguero won the Golden Boot in the 2014/2015 season with Manchester City, but finished the next two seasons at second and fourth positions respectively. He also played 31 Premier League games last season in which he scored 20 times for Manchester City.
However, Gabriel Jesus poses a real threat to the Argentinean striker as City's main striker for the upcoming season. As an exciting Brazilian prospect, Gabriel Jesus has also managed to impress the manager Pep Guardiola after his transfer to Manchester City in the winter transfer window.
There are speculations that a few players on the top goal scorers list will be changing clubs. The most prominent transfer would be of Everton's Lukaku who is linked with his former club and Premier League champion, Chelsea, along with the likes of Manchester United and Arsenal. It will be fascinating to find out what happens with Alexis Sanchez and Diego Costa who were also in the race for the Golden Boot last season.
Below are 10 players to bet on as the best goal scorers for next season.

From being called a 'one season wonder' to winning two consecutive Golden Boots, Harry Kane has defied all odds by becoming the fourth player to score at least 20 goals in three consecutive Premier League seasons. Previously, this honour was achieved by Alan Shearer, Ruud van Nistelrooy and Thierry Henry.
After scoring 29 times for Tottenham Hotspur last season, Harry Kane is once again expected to be the top goal scorer next season. He scored seven goals in the last two Premier League fixtures to retain the Golden Boot. The English forward holds a joint record with Michael Owen for winning a Golden Boot in the lowest number of Premier League appearances – 30 to be precise. Furthermore, it is highly unlikely that he will join a different club.
Harry Kane has 11/4 odds for becoming the 2017/2018 top goal scorer.

Romelu Lukaku is considered as one of the most gifted forwards in the world. With his immense physical ability, pace and a strong left foot, this former Chelsea and current Everton player has been a real threat to other Premier League teams in the past couple of years. If we exclude all the goals scored on penalties, Lukaku is the top scorer in the Premier League 2016/2017 with 24 goals. In contrast, Harry Kane had 5 out of 29 goals from the penalty spot last season.
Being second only to Kane last season, Romelu Lukaku is the highest rated Everton player who was in great demand during this summer's transfer window. As the second top goal scorer in the Premier League, Lukaku is linked to a transfer back to his former club, Chelsea, who are ready to pay £100 million to Everton.
Despite the summer move for Lukaku, he has 5/1 odds for being the top goal scorer next season.

Although, it has not been a star-studded year for the Argentinean and Manchester City forward, Sergio Aguero has nonetheless been impressive. As the top goal scorer for Manchester City last season, he seems to have the urge and the determination to find the back of the net whenever given a chance. This means that he cannot kept out of any team selection. Despite the manager expressing doubts about his ability to lead the team from the front, Aguero managed to score once every 130 minutes last season.
He has 11/2 odds for being the top goal scorer next season.

The Spaniard Diego Costa has been Chelsea's main goal scorer and played a crucial role this season for the team. He played an integral role in helping the football club win the Premier League 2016/2017. Against Crystal Palace, Middlesbrough and West Brom during a 13-game winning streak, Costa's goals were the difference that made the journey for Conte easier.
However, there is speculation that Antonio Conte does not see Diego Costa in his plans for the next season. Despite this, Costa believes that he has a contract with Chelsea and will remain a Chelsea player until a transfer.
Until the matter is resolved, Costa has 6/1 odds to be the top goal scorer next season.

Alexis Sanchez carried Arsenal for much of the season, being the highest rated and one of the top Premier League players from last season. The Chilean forward ended his season with 23 goals and 10 assists, all of which came from open play. Thus, he became the only player in the Premier League last season to reach double figures for both goals and assists.

With an immense work rate, pace, technique and the ability to take on any defender, Alexis Sanchez has proven his worth at the club.
He has 10/1 odds for becoming the top goal scorer next season.

Until April, Christian Benteke was a poor man's Romelu Lukaku who would not have been on this list at all. However, his contribution for Crystal Palace in the final weeks of the last season saw him earn a place among the top goal scorers. The moment Sam Allardyce (Big Sam) took over the club, things changed not only for the team, but for the Belgian forward as well.
All of a sudden, Big Sam and Big Belgian looked like a match made in heaven, which is why Christian Benteke has 15/1 odds to become the top goal scorer next season.

Dele Alli is one of the hottest English prospects in the summer transfer window this season. The English midfielder, only 21 years old, seems to have complete mastery over the sport and high intelligence. He was a crucial member for Spurs last season with an immense technique of passing and for dribbling his way out of tight areas. Mauricio Pochettino handed him the heavy responsibility of carrying the team and creating chances, and he did it well.
Dele Alli has 12/1 odds to be the top goal scorer next season.

Roberto Firmino proved his worth last season after being doubted by various analysts and even fans. Despite being a least acclaimed player in Liverpool's front line-up, he managed to score 11 goals and win possessions the third most time in the final third (28) last season.
With his ability to score from inside and outside the box as well as creating chances for fellow teammates, Firmino has 18/1 odds.

It took almost nine months for Eden Hazard to score a goal in the Premier League 2015/2016 campaign. However, last season he returned with a bang and spectacularly in form. Apart from this, Conte's system allowed Hazard to move freely, thereby giving him more freedom to take on defenders and to create as well as score goals. He has been highly influential during Chelsea's win this season.
With such consistent performance throughout last season, he has the odds of 15/1 for winning the Golden Boot.

Ever since Gabriel Jesus completed his move and joined Manchester City in the January transfer window last season, he has posed a real threat to City's main man Sergio Aguero. The ability and intelligence of Jesus made an excellent impression despite being out for a couple of months due to an injury. Highly lauded as one of the top young players in the world, Gabriel Jesus has the odds of 7/1 for winning the Golden Boot next season.