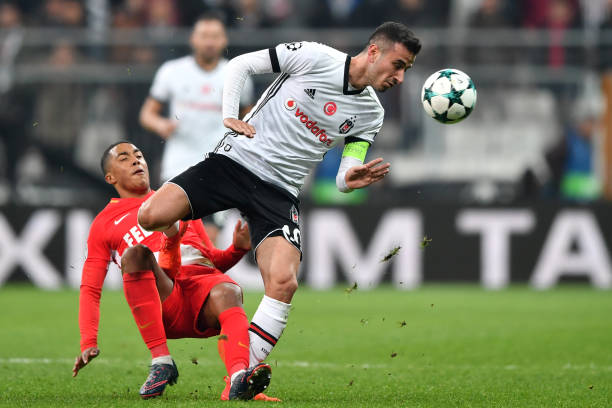 Besiktas midfielder Oguzhan Ozyakup has been closely linked with a move to Newcastle United.
Fotospor claim that the Magpies have reached a £13 million deal for the midfielder.
Black Eagles club president Fikret Orman has opened up about the Ozyakup situation.
Orman revealed that they will wait until he is a free agent before signing him on a new deal.
The reason behind this is to escape the 30 percent future sell-on clause Arsenal have.
Ozyakup left Arsenal for Besiktas five-years ago but the Gunners included a clause in his deal.
The Eagles are open to selling Ozyakup but do not want to give 30 percent to the North London based outfit.
See More: The one Wenger let get away? From Arsenal to Besiktas – The Rise of Oguzhan Ozyakup
Besiktas would not have to pay Arsenal the 30 percent clause if they sign Ozyakup as a free agent.
The strategy relies on Ozyakup keeping his word to go ahead with the plan.
The Turkey international would technically be able to sign for another club on a free transfer.
There is nothing currently stopping Newcastle from signing Ozyakup on a free transfer.
Besiktas meanwhile will set a £13 million price tag once they have a new deal in place as they do want to sell him, just without paying Arsenal.
"Oguzhan is out player, we will officially confirm this," Orman said.
"The problem is our agreement with Arsenal, 30 percent of any future transfer will go to Arsenal.
"If his contract runs out and then we sign a new deal that will no longer apply.
"We have requested that Arsenal reduce their future sale percentage but they are not interested."
The high-risk maneuver could be lucrative if it pays off but technically there is nothing stopping Ozyakup sign with another club as a free agent.