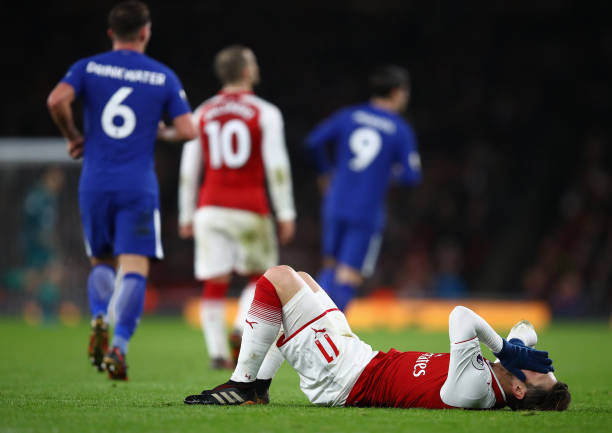 Arsenal take on Fulham at Craven Cottage in the Premier League on Sunday hoping to extend their winning run to seven games.
The Gunners will have to do so without Mesut Ozil who was not included in the matchday squad.
The official Arsenal Twitter account moved quickly to disclose that the playmaker of Turkish origin was out with a back spasm.
? @MesutOzil1088 misses #FULARS due to a back spasm pic.twitter.com/XvBIiWBuiP

— Arsenal FC (@Arsenal) October 7, 2018
See More: Arsenal & Man United Keep Tabs On £55m Bayern Target Lighting Up The Serie A
The update was not enough to satisfy everyone.
Ozil faced some criticism for missing the game due to injury. There appear to be some fans who are convinced he is faking it.
Ozil AGAIN! It's getting a bit ridiculous.

— Richard (@richardbrown31) October 7, 2018
You think it's just a coincidence he misses only premier league away games? Think it might be a case the manager doesn't trust him away from home in this league.

— Richard (@richardbrown31) October 7, 2018
Back Spasm.. think I'll use this not to go into my 350k a week job tomorrow…

— AndyGodfrey1966 (@ArseNal196646) October 7, 2018
Is that from carrying us the last 3 seasons?

— Matt Orpin (@mjorpin) October 7, 2018
Ahh of course! The fabled back injury strikes again! Kop out. Absolute kop out #AFC #FFC

— Callum (@Cal_94Gooner) October 7, 2018
— Mickey (@mikeLaury04) October 7, 2018
There were also great responses to those claiming Ozil is faking injury. After all he did travel all the way to Azerbaijan to play midweek so I do not know why his commitment to the club is being questioned.
Cue the Yer das slating Ozil for missing an away trip

— Aussie Gooner (@Roberto_Holdini) October 7, 2018
That he's had an ongoing back problem ? I wonder how you can slate him lol, he travelled all the way to Azerbaijan on Thursday you really think he'd miss a bus trip within London if he could help it ?

— Daniel Ogbonnaya (@naphtrax) October 7, 2018
Seriously. You think he can do something about back spasms? Clearly you've never had back issues because if you did you'd understand how discomforting this can be

— ✗Gooner♥?? (@KenwinGooner) October 7, 2018
Get well soon @MesutOzil1088

— Wan Man (@fatherofwan) October 7, 2018
I feel your pain.
After waiting all week to watch Ozil play… pic.twitter.com/b1iMrO83uw

— #M1Ö (@hawt_red) October 7, 2018
Good point.
Ozil misses out with a back spasm, which perhaps raises questions about whether it was smart to play him in Baku. But good to see Iwobi and Mkhitaryan start. https://t.co/xSviVQbBrw

— Mattias Karén (@MattiasKaren) October 7, 2018