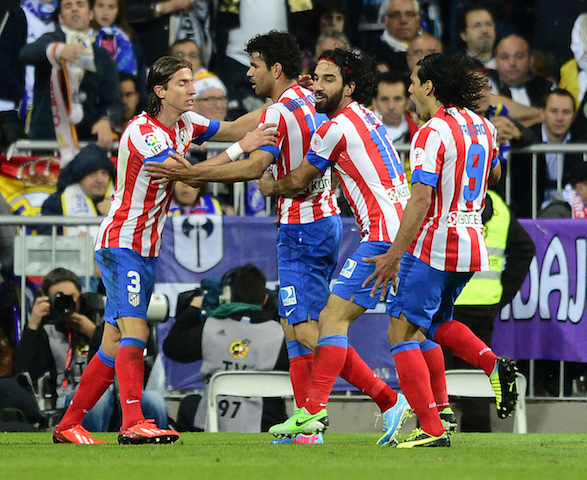 £30m Chelsea star Diego Costa mocks Antonio Conte and filmed partying
Chelsea striker Diego Costa has filmed himself partying in an Atletico Madrid kit.
Turkish giants Besiktas have been closely linked with a move for the Spain international in recent weeks.
The latest report suggests that the Black Eagles may loan Costa on a short-term loan until January. Besiktas have won back-to-back League titles and will compete in the UEFA Champions League this season.
However, Costa appears to have his mind-set on a return to Atletico Madrid this summer. The experienced striker has been frozen out of the Chelsea squad by manager Antonio Conte.
Costa is seen dancing while wearing the red and white Altetico Madrid jersey. The video was posted on his official Instagram account.
INCLUSO HASTA SE ATREVE A DECIR UN AUPA ATLETI EN EL SEGUNDO 15. VA CIEGUÍSIMO. DIEGO C DESECANDENADO. MI DELANTERO. pic.twitter.com/LJsrlwU33M

— Raulgarcismo (@RauIgarcismo) July 16, 2017
Costa's teammate Cesc Fabregas responded to Costa's live video with a laugh. Costa then told Febragas to "Give Conte a hug."
Fabregas comments: hahaha
Costa: Give Conte a hug.

CONFIRMED pic.twitter.com/MRldlpFXOo

— AtléticoFans (@AtleticoFans) July 16, 2017
Costa will be unable to play for Atletico Madrid for six months if he makes the move this summer. Atleti are currently serving a six-month transfer ban.
The 28-year-old striker racked up eight assists and 22 goals in 42 appearances for Chelsea last term. Costa made the move to Chelsea from Atletico Madrid for £32 million back in 2014 (BBC).