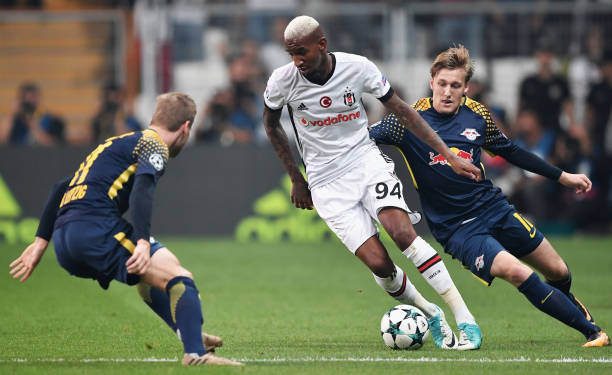 Besiktas manager Senol Gunes dropped a transfer bombshell when he was reported to have said Anderson Talisca 'might' join the rivals of Everton.
"Talisca was already gone at the winter break," Gunes was quoted by Goal as saying after the Sivasspor game.
"I'm sorry that he won't be with us any longer. I wish he could stay for his sake and ours. He already had a deal in place."
"He might be rivals with Cenk Tosun."
What he actually said was: "Talisca was already gone at the winter break, I can't tell you which club he joined but they could play against Cenk's team," Gunes said.
Now the Liverpool link is nothing new, Turkish-Football have reported the Reds keeping tabs on Talisca.
The Reds do have a pretty impressive track record in getting Brazilian players to settle in as well, just look at how Coutinho and Firmino thrived at the Merseyside based outfit.
Hakkımız Helaldir..Güle Güle Talisca… pic.twitter.com/61rrSZnI6E

— Cem Göncü (@cemgonc) May 19, 2018
Why Manchester United Are More Likely To Sign Talisca
Talisca could very well end up at Liverpool and I think Manchester United are the more likely side to clinch the deal.
United have made a £35 million bid for Talisca which is likely to be accepted by Benfica according to O Jogo.
The fee is higher than the buyout clause Benfica had negotiated with Besiktas, which stood at €18 million.
The report claims the Brazilian is 'excited' by the prospect of an Old Trafford move.
It is no secret that Talisca rates Jose Mourinho in high regard.
In an interview with Globoesporte last summer Talisca claimed Mourinho has wanted him for a long time.
"That is a question I can not give an answer to just yet," Talisca was quoted as saying when asked about United interest.
"I cannot deny there is interest but what happens next depends on Benfica and my representatives. 
"Look every player dreams of playing under him [Jose Mourinho].
"Mourinho wants me, he has wanted me for a long time and I am an admirer of his work.
"I had a good season so we will see what happens." 
Mourinho meanwhile, has been a long-term admirer of the powerful Brazilian.
In February 2015, Mourinho added: "So I repeat what I said (that he was keen on him and he'd have been in England if not for a work permit). And that does not mean we want the player for something, and it doesn't mean that we don't him for anything.
"It's a logical thing: where is a player in the world today who is detected only by one club? Only if he is hidden in a tomb and found by someone on safari in Africa. Within the known markets, there is no player that is detected by a single club. So I think it's very good that Jorge has a great picture of himself and that he's a person very proud of his path and his work, I think all this absolutely normal, but do not mess with my job which I also take very seriously."
Speaking to sources at Besiktas who wished to remain unnamed, Turkish-Football understands that Talisca has reach an agreement-in-principle with United.
A deal has however, yet to be reached between Benfica and United.
Talisca and Mourinho have been flirting for years but another reason why he is more likely to move to Old Trafford is down to his style of play.
I just do not see where Talisca would fit into this Liverpool side unless Jurgen Klopp tinkers with his system.
Anderson Talisca'nın Instagram da paylaştığı video

— çArşı ?? (@cArsi_1982) May 20, 2018
Talisca is a tall, powerful, dual-footed attacking midfielder. The problem is he does not press as hard as Klopp would like, his defensive work is lapse at times.
Mourinho meanwhile likes to make use of physical players. He used Fellaini as a battering ram at times. The Belgium international is leaving so he will need to be replaced.
Talisca is of similar stature to Fellaini but a far more technically gifted player who offers a lot more creativity, flair and a goal threat.
The 24-year-old scored 20 times and provided eight assists in all competitions this season, netting four goals in the Champions League.
Besiktas cruised through the European competition group stage as undefeated leaders, with Talisca playing a key role.
Under the stewardship of Besiktas manager Senol Gunes he has come a long way. Talisca has improved his aerial ability, decision making and finishing. He is not the finished article just yet but there is plenty for a capable manager to work with.
Regardless of whether he joins United, Liverpool or even Wolves, I have no doubt that Talisca will be a welcome addition to the Premier League.