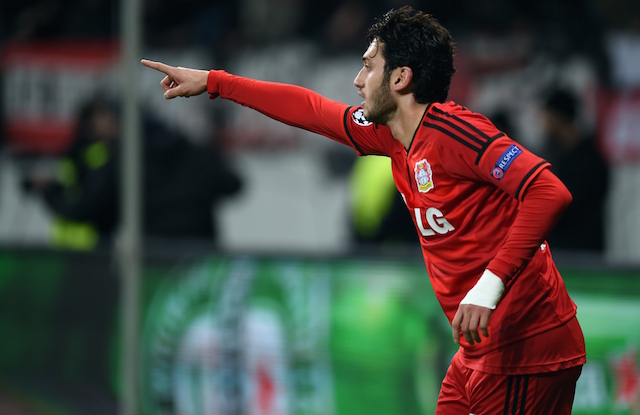 AC Milan have expressed an interest in Hakan Calhanoglu and made an enquiry via third parties regarding his availability a source close to the player revealed to Turkish-Football.com.
See More: Everything you ever wanted to know about Hakan Calhanoglu
Per the source, AC Milan and Chelsea were scouting Calhanoglu earlier in the season and remain interested despite his FIFA ban.
The Turkish international star is currently unable to play domestic or international football for four months after receiving a playing ban from FIFA.
The suspension revolved around an incident which unfolded before he signed a professional contract with Karlsruher.
Calhanoglu who was represented by his father at the time accepted a payment along with his agent (father) worth €100,000 each agreeing to join Trabzonspor on a professional contract.
The attacking midfielder later joined Karlsruher instead and Trabzonspor have been locked in a court case ever since.
Calhanoglu has since fired his father from representing him as an agent and will work with a professional player management country going forwards.
The 23-year-old was in great form for his currently club Bayer Leverkusen until his suspension scoring seven times and providing seven assists in all competitions.
Calhanoglu's current contract with Bayer runs until summer, 2019 and he did recently deny quotes published in the Turkish press that he wants a Chelsea move.
The Fanatik newspaper quoted Calhanoglu as saying: "God willing, I will be a Chelsea player next season."
Calhanoglu denied the quotes despite almost every mainstream newspaper in Turkey sharing the same story.
I said nothing about Chelsea in the press & didn't talk to any Turkish journalist – neither about the court decision nor about my future!

— Hakan Çalhanoğlu (@hakanc10) February 6, 2017
Calhanoglu has agreed to forfeit his wages for the rest of the season as he feels it will be unfair on Bayer to pay for what was his mistake.
"Bayer had nothing to do with the incident," said the Turkey international," Calhanoglu revealed on his Facebook page.
"The club have, however, been affected by the resulting punishment in a sporting and economical sense.
"That's why, for me, it makes complete sense that I should not further harm the club and will therefore forgo my salary during the time of my exclusion."