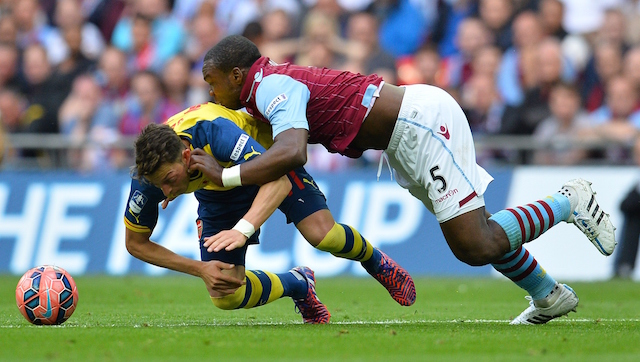 Analysis: Mesut Ozil v N'Golo Kante – The Key Battle in Arsenal v Chelsea
The Premier League season is done and dusted which means it is time for the FA Cup final.
Arsenal have developed into FA Cup specialists in recent years, having lifted the cup twice over the last three seasons. Gunners boss Arsene Wenger has the chance to be the first manager to lift the trophy seven times.
Chelsea meanwhile have their minds set on the double. The Blues lifted the Premier League trophy last week with a comfortable eight point lead over Tottenham.
Key Battle: N'Golo Kante v Mesut Ozil
Arsenal look re-energised following Wenger's tactical switch from a 4-2-3-1 to a 3-4-1-2. Ozil experienced a surge in form since the formation change. The 28-year-old has provided an assist in three of the Gunners last four games.
If Arsenal are to come out on top on Saturday, they will need to feed Ozil the ball in between the lines. The former Real Madrid man is one of the best in the business in the number 10 role and is an expert at spreading the ball from side to side.
However, Ozil will be up against Chelsea defensive midfield maestro N'Golo Kante. The France international was named as the Premier League player of the season and played a key role in his sides title win.
Kante's role at Chelsea is as a midfield destroyer and distributor. The passing side of his game often goes unnoticed but he is generally neat and tidy in possession.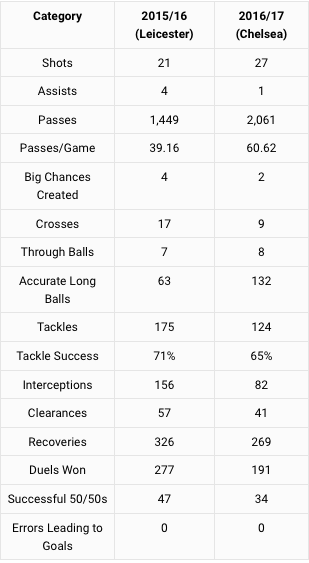 The 26-year-old's main task this weekend will be to track and prevent Mesut Ozil being allowed to get time on the ball. If Kante manages to shuts down the space in front of Chelsea's defence and nullify Ozil, the Gunners will lack a creative spark and the Blues will have gained a significant advantage. Despite facing a barrage of criticism Ozil has still managed to score 14 times and provide the highest number of assists for his team this season (13).
In fact no other player has provided more assists since Ozil joined the Premier League in 2013. If you factor in the sheer number of goal scoring chances he creates on top of the assists it does not take a rocket scientist to work out that the playmaker of Turkish origin is one of the key danger-men.
Arsenal will need to add an element of surprise to their attacks – perhaps with forward runners from midfield via Aaron Ramsey – in order to unsettle Kante and give the Frenchman another problem to think about.
It will be a fascinating duel which pits two of the Premier League's best players and could dictate the outcome of the game.