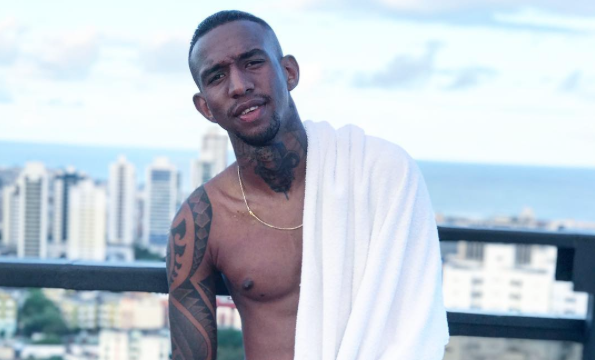 Who is Anderson Talisca? – Everything Man United fans need to know about the £22m transfer target
Jose Mourinho has been an admirer of Anderson Talisca since he was in charge of Chelsea.
Speaking to Portuguese broadcaster TVI24 [via Daily Star] in 2014, Mourinho said: "I think Benfica hired well. They say Talisca is unknown, but he is only so unknown because he's only not playing in England because he doesn't have a work permit. If he had one, he would be here!" 
Mourinho has since taken charge of Manchester United and is still a fan of the Brazilian attacking midfielder.
Talisca was asked about interest from United in a recent interview with Brazilian outlet Globoesport: "That is a question I can not give an answer to just yet.
"I cannot deny there is interest but what happens next depends on Benfica and my representatives.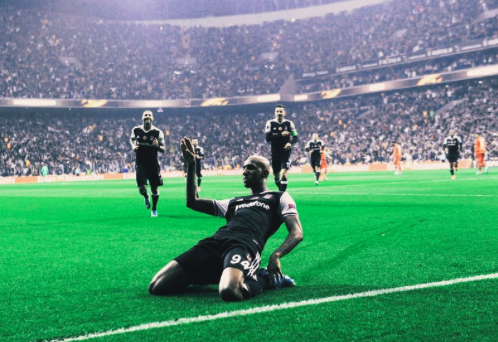 "There will be news on this soon. 
"Look every player dreams of playing under him [Jose Mourinho].
"Mourinho wants me, he has wanted me for a long time and I am an admirer of his work.
"I had a good season so we will see what happens." 
Talisca is expected to stay on at Besiktas for another season on loan but he does have a £22 million [€25m] release clause.
Who is Anderson Talisca?
Talisca had a brief stint in the Vasco academy before making a name for himself at Bahia winning the Campeonato Baiano in 2014 before being snapped up by Benfica.
At Benfica he lifted back to back league titles and back to back Portuguese Cup trophies before falling out with the board and joining Besiktas on a two-year loan deal last summer.
The 1.92m tall attacking midfielder is a nightmare to deal with. The 23-year-old is difficult to dispossess, rarely loses aerial duals and is like a steam train when making forward runs. It really does take a brave defender to get in his way once he gets going.
There is still some confusion over his position. This probably stems from the fact he looks like a defensive midfielder. Talisca has played as a No 10 at Besiktas. The creative, attacking midfielder plays behind the striker but is versatile enough to drop deeper, play wide and in forward positions.
One of his biggest strengths is his shooting range. The Besiktas ace has a lethal long shot and is a set-piece maestro – as Benfica found out in the Champions League this season.
Could he do it on a cold, wet Wednesday night in Stoke?
A question mark often raised when talented foreigners are linked with a Premier League move is whether he could do it on a cold, wet Wednesday night in Stoke.
Talisca was built for the English football where fans and pundits seem to love raw power, speed and work-rate.
The former Bahia man is not the type to get bullied and can handle his own. Physically he is the ideal Premier League player with the added bonus of Brazilian flair and technique.
One aspect of his game he could work on is becoming more assiduous. The defensive end of his game needs some work.
Form
Talisca arrived at Besiktas a highly rated player on the verge of not reaching his potential. His confidence was shot following a dispute with Benfica and his mind was in the wrong place.
Besiktas manager Senol Gunes deserves a lot of credit for getting Talisca's career back on track and developing his game.
"Senol Gunes is a great coach, I regained my confidence because of him, I can now do what I do best, he has helped me so much," Talisca shortly after winning the championship.
Talisca has improved tactically, he reads the game a lot better and has become a talismanic figure for the Istanbul giants.
With 13 goals in 21 league starts – 17 goals and six assists in all competitions –  Talisca has one of the best conversion rates in the Super Lig. Statistically he was the third best performing player according to Whoscored.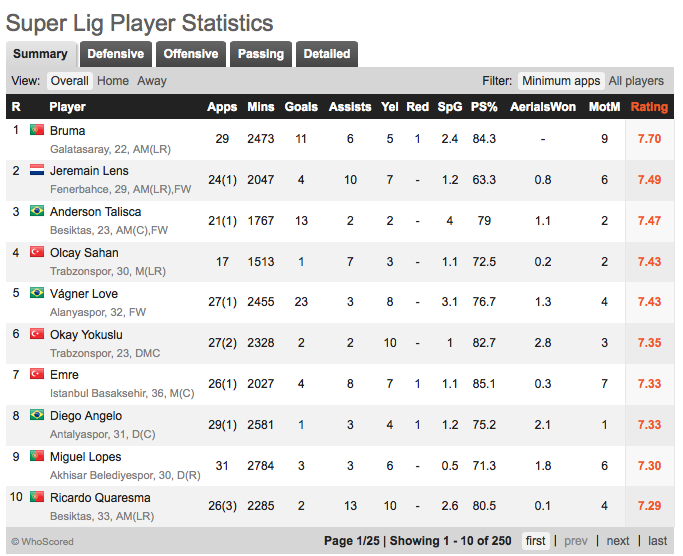 While his statistical review makes impressive reading it does not tell the full story. Talisca is the type of player capable of creating something out of nothing. He has the ability to raise his game on the big stage, scoring important Champions League goals and a brace in the Europa League quarter-final against Lyon.
Talisca played a major role in the Black Eagles winning the league title this season and his side were just a penalty shoot out away from reaching the Europa League semi-finals. Nicknamed the 'snake' at Besiktas – for his venomous bite, not for being duplicitous – he has assumed a natural leadership role within the space of a season.
Besiktas fans have developed a cult like reverence for their star man who they hope will stay on for at least another season as part of his two-year loan deal.