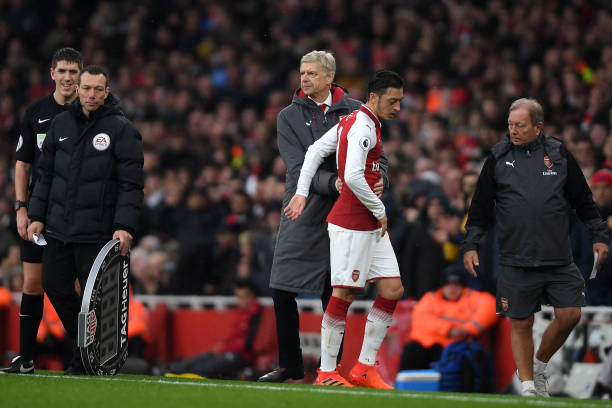 Arsenal star playmaker Mesut Ozil has been caught watching the goal he scored against Leicester City on Monday night.
The 29-year-old was the star of the show against the Foxes with a goal and assist on the night.
Aubameyang – who netted two goals on the night – caught Ozil viewing his own goal and done what any good teammate would do, film it and upload the video to social media.
To be fair to Ozil. the goal was pretty special and does deserve to be watched over and over again.
See More: Arsenal Star Named In Robbie Savage's Premier League Team Of The Week
Arsenal are back in action in the Europa League on Thursday evening when they take on Sporting Lisbon. The north London based club's next Premier League fixture is up against an out-of-form Crystal Palace.
Ozil has been in impressive form for Arsenal in recent weeks and has netted four goals and provided one assist in nine appearances for Arsenal this season. The 29-year-old was also included in Robbie Savage's team of the week.
The former Real Madrid man spent the international break in north London after quitting the Germany national team following a turbulent summer.