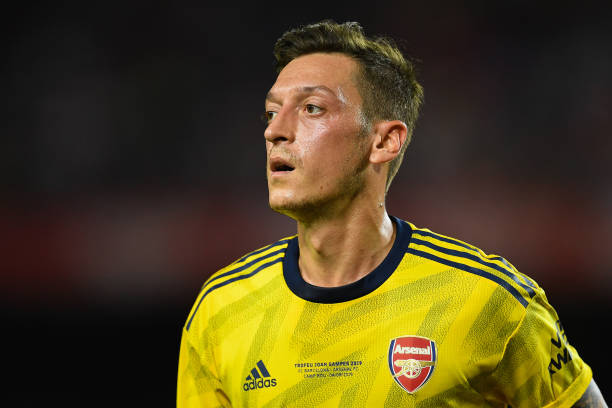 Arsenal star Mesut Ozil gave an explosive interview today revealing all from being attacked by a moped gang this summer to his opinion of head coach Unai Emery.
Ozil had the following to say about Emery to the Athletic: "We might not see eye-to-eye on everything but that's normal, it's life and it's the same with my family and friends. You have to accept it and go forward."
"I will play. I believe in myself to do what he asks of me and I want to help the club to reach our goals."
The playmaker of Turkish origin has struggled for playing time this season making just one Premier League appearance for the Gunners.
Ozil did have the attack incident and two people were arrested outside his house earlier in the season. Additionally, he has had some injury issues but recently the 31-year-old has been match-fit and still left out of the squad.
Emery was asked about the Ozil situation following the interview in his press conference ahead of the Sheffield United game on Monday.
The Spanish manager revealed that he does not have a problem with Ozil and that there were a number of reasons he hasn't played regularly this term.
Also Emery revealed that the door is still open for Ozil to have a role at Arsenal this season.
See More: Women's Turkey national team & Besiktas captain Didem Karagenc Interview – 'Football is more than just a game, especially women's football'
"With Mesut this year started with difficulty for him," said Emery. "He worked well in pre-season, he played matches, but the problem [attempted carjacking incident] he had with Sead [Kolasinac] stopped him.
"Then after that problem he was sick for a week.
"Then he lot a lot of training, continuity and keeping his fitness.
"But the last two or three weeks he improved with us, and I think it's good.
"I didn't close the possibility of playing for him because I think and I want, if he's okay, him to be ready and available, training with us and giving a good feeling to us in training every day.
"He can play, my idea is to use every player and he's one of the squad who can help us.
"He has big skills and quality we will need in the next matches. I'm happy now how he is improving, how he is training every day."
Arsenal face Sheffield United away next, Ozil is match fit and will be hoping for his second Premier League appearance this term.