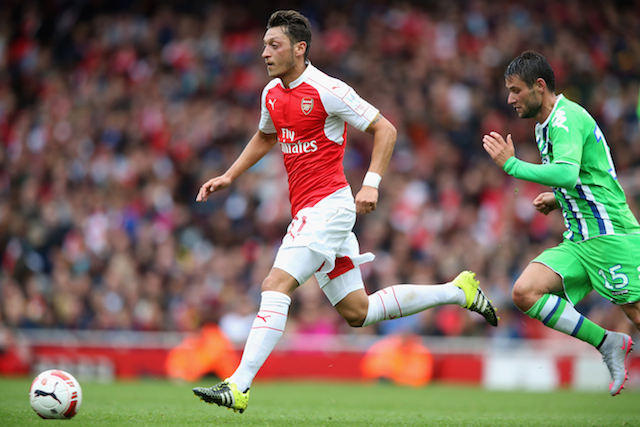 Arsenal contract rebel Mesut Ozil 'fascinated' by Real Madrid boss Zinedine Zidane
Arsenal star Mesut Ozil has paid tribute to Real Madrid boss Zinedine Zidane.
The 28-year-old has labelled the former France international as the "complete player".
Ozil revealed that he watched Zidane during his youth days and outlined how he was amazed while watching the former playmaker.
"I always saw him as a complete player," Ozil told Arsenal's official website. 
"He could use both feet, was dangerous in front of goals, strong defensively, good in the air and had an unbelievable first touch."
See More: Watch: Mesut Ozil loses temper & physically lashes out at Sunderland player
Ozil went onto state that many people have compare himself with Zidane.
"A lot of people told me at the time that my style of play reminded them of him," Ozil went onto say.
"They'd say 'you are calm and seem to have time on the pitch, even if 10 people are going at you, you always find a solution'. That always fascinated me about Zidane.
"I watched what he'd do on the pitch and want to do it myself when I was a young kid. Most things I picked up quickly, thank God. As I said, he was my idol."
Mesut Ozil left Real Madrid three years before Zidane was appointed as manager.
Zidane won the UEFA Champions League in his first season as Madrid boss and is on course to win the La Liga this year. Madrid have also booked their place in this season's Champions League final.
Ozil's contract with Arsenal expires in a little over 12 months. Contract talks between the Gunners and Ozil have been put on hold until the end of the season.