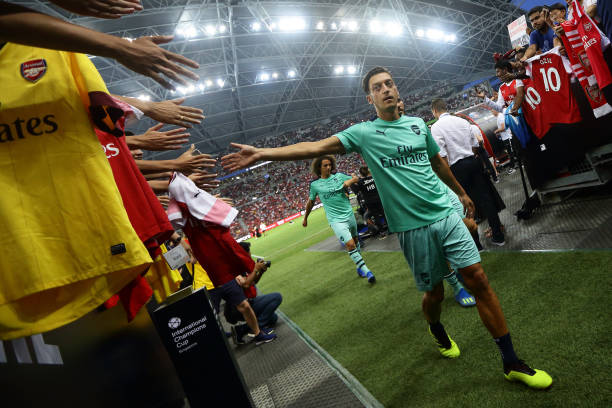 Arsenal star Mesut Ozil is renowned for his assists but it was teammate Saed Kolasinac who came to the rescue tonight.
Ozil thanked Kolasinac who 'assisting' him in his babysitting 'mission'.
The playmaker of Turkish origin shared a photograph of the Bosnia international and himself with the two girls they will be looking after.
I wonder how they will get on. Perhaps they could all play Fortnite together?
See More: "I should've said Ozil was crap, not sh*t!" – Bayern cheif takes another swipe at Arsenal ace Mesut Ozil while apologizing
Ozil has spent the past week recovering from injury, celebrating his 30th birthday and playing Fortnite.
He even streamed his sessions online on the Twitch social media network.
The 30-year-old is expected to be back in action on Monday against Leicester City at the Emirates.
Ozil missed last weeks 5-1 win over Fulham with back spasms but has since returned to full team training and has been included in the squad ahead of the Foxes clash.
The Gunners are on a nine game win streak and Ozil has three goals in eight appearances this term.
Arsenal head into the Leicester clash in 5th place just five points behind league leaders Manchester City.
The Gunners have won their last eight home games against the Foxes.
THE last time Leicester beat Arsenal on the road was back in 1973.