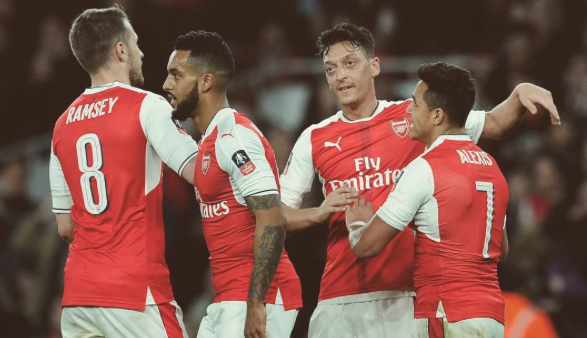 Arsenal fans rage on Twitter at reports claiming £42.5m star Mesut Ozil will leave
Reports emerged earlier today that Arsenal star Mesut Ozil could be on his way out of the club over the summer transfer window.
The Sun reported that Arsene Wenger is furious with Ozil and willing to sell him over the transfer window.
Ozil will have just over a year remaining on his contract at the end of the season but has not signed an extension.
The Germany international of Turkish origin joined Arsenal as a record £42.5 million signing from Real Madrid in 2013.
We took a look at how Arsenal fans reacted on Twitter to news that Ozil could be on his way out.
Ozil was unable to play for Arsenal against West Brom after Arsenal revealed that he suffered a hamstring injury.
More: For Mesut Ozil news and everything you want to know about the Arsenal sta
Most Arsenal fans do not appear to be happy at the prospect of losing Ozil.
Wenger – Staying

Sanchez – Leaving

Ozil – Leaving pic.twitter.com/aDewrLIbLV

— Football Tips (@footballtips) March 21, 2017
I will always support you through the good and bad times. You see all these snakes turning on you now but you will be back @MesutOzil1088 pic.twitter.com/zSU96OlCOT

— ♛AÖ♕ (@AssistantOzil) March 21, 2017
Wenger signed a new contract & Sanchez & Ozil are leaving Arsenal pic.twitter.com/LCbouE8ICi

— Loco Goose ???? (@CrazyGoose) March 20, 2017
We should be looking to build around Özil & Alexis, not rebuild when they leave ?

— Pádraig 〽️ (@VintageOzil) March 20, 2017
ARSENAL NEWS ROUND-UP:

The bad news: Mesut Ozil and Alexis Sanchez set to leave

The good news: Arsene Wenger determined to stay pic.twitter.com/fx2HxOyYWs

— NOW TV Sport (@NOWTVSport) March 21, 2017
Sanchez And Ozil Tring To Leave For Juventus pic.twitter.com/0FcA0mY5e0

— BBCSPORF (@B8CSP0RF) March 20, 2017
Ozil and Sanchez I reckon will leave. Don't blame them. I'm just hearing listening to more life. It's what arsenal need.

— Poets Corner (@PoetsCornerUK) March 19, 2017
Perhaps this will cheer you up?
We're 6th, lost 3-1 to West Brom, 10-2 to Bayern, Sanchez and Ozil leaving, Wenger signing 2-year deal, can anything cheer me up?
Yep? pic.twitter.com/WHbJsWMqfV

— Liam (@liamhuntafc) March 21, 2017
Wenger is reported to be planning a major overhaul if he does indeed stay on but at what cost?
@samuelJayC overhaul by sellling your two best players? They never learn.

— Farah (@AvatarSaiya_jin) March 21, 2017
Ozil and Sanchez both want him gone and are going to leave whilst Wenger "rebuilds" his squad for the 50th time. You can't make this shit up

— James (@GoonerJimbob) March 20, 2017
If Ozil and Alexis Sanchez leave it would be the latest of a long list of star players to exit the club over the past few years including Robin van Persie, Samir Nasri and Cesc Fabregas.
It's amazing how some journos & some gooners don't fully appreciate the fallout on #Arsenal 's reputation when both Ozil & Alexis leave

— Sandra N. (@SandraHelena39) March 21, 2017