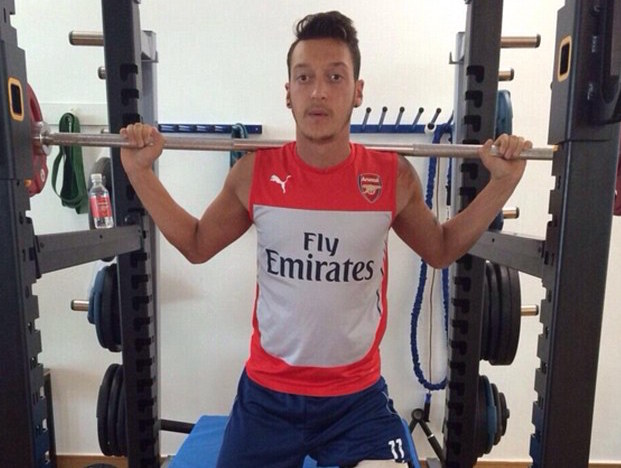 Arsenal fans rage at 'petulant little child' Mesut Ozil reporting for Germany despite hamstring injury on social media
Arsenal suffered a surprise 3-1 defeat against West Ham at the Hawthornes over the weekend.
Germany international of Turkish origin Mesut Ozil did not start for the Gunners, in fact he was not included in the match day squad.
More: For Mesut Ozil news and everything you want to know about the Arsenal star
News of Ozil being dropped came as a surprise considering he had been training with the team over the past week.
Arsenal Wenger did reveal that Ozil was left out after pulling out last minute with a hamstring injury.
Not all Arsenal fans were convinced.
Ozil missed the Liverpool game due to illness, only played 18 minutes against Bayern Munich, did not play the full 90 minutes against Lincoln City and did not feature against West Brom.
The 28-year-old will have just a year remaining on his contract this summer and has yet to extend his current deal which has resulted in rumours that he could be leaving.
Ozil sparked further controversy when ESPN reported that he reported for Germany national team duty.
We took a look at how Arsenal fans reacted to Ozil pulling out of the West Brom game but declaring himself available for Germany.
Ozil missed the weekend game but reported for Germany leaving Arsenal fans baffled and bemused.
Ozil fit Germany but not arsenal 🤔

— Pete Gooner (@thepagooner) March 20, 2017
Ozil set to feature for Germany. LOL!

— Omo (@Omo_6) March 20, 2017
If Ozil trains with Germany that will speak volumes

— Johno ✖️ (@Talkinoutmyarse) March 20, 2017
I can't wait for him to sod off to Germany @iredia_AFC: Ozil is like a petulant little child"

— BIG BEN (@merengue4) March 18, 2017
Ozil fit for Germany then? Wenger gave him time off when we needed him but can't play for us? Sad state of a club to be in.

— Same old (@PaulGoff1) March 19, 2017
@MattyBAus Absolutely. Alexis is 98% gone and if Ozil plays for Germany it's basically him throwing in the towel with us given he's supposedly "hurt"

— Jimmy (@BigArsenalStyle) March 20, 2017
Rumours that Ozil misses today through injury 😂😂😂. Fucking hell. Expect to see him posting pics from Germany or Turkey later on.

— Highbury Harold (@BlackScarfAFC) March 18, 2017
@Bandoguk @TheMagicHut @AFC_GLEN Ozil, not fit to play for us but training with Germany

— Jay Patel (@NorthBankJay) March 20, 2017
@Arsenal How convenient. Ozil back fit just in time to join Germany I read. Thank goodness playing for his team didn't spoil his plans.

— Ross Larsen (@Smudla62) March 20, 2017
Ozil 'injured' for 5 games, suddenly fit for Germany. Excellent. https://t.co/cRyv07uaNq

— Abdi (@AbdiFooty) March 20, 2017
Is it a case of Ozil no longer wanting to play for Wenger?
Dodgy indeed clear he faking it and doesn't want to play 4 Wenger!!!

— Ukoko I (@ukokospeaks) March 19, 2017
Ozil waiting for wenger to step down in 2053 pic.twitter.com/ez4sTV6hWT

— . (@allaboutarsena) March 19, 2017
Are Ozil and Sanchez being made into scapegoats? both players future at Arsenal hangs in the balance, neither have yet to sign a contract extension and there is talk that they could leave over the summer.
When Sanchez & Ozil leave, watch them become the villains. Won't be cos we're STILL failing to challenge for titles, won't be Wenger either.

— Highbury Harold (@BlackScarfAFC) March 20, 2017