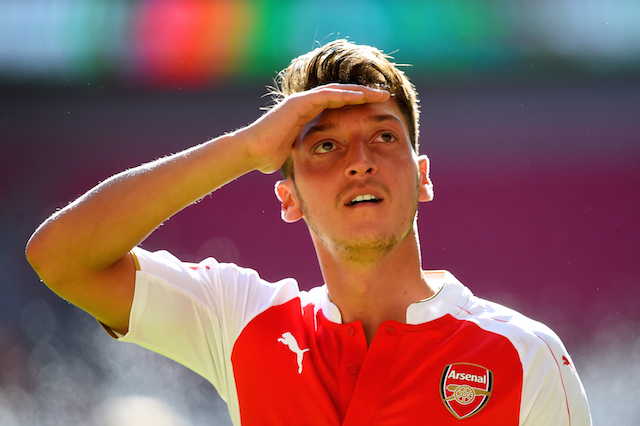 Arsenal suffered a humiliating 5-1 defeat against Bayern Munich in the Champions League Last 16 first-leg tie at the Allianz Arena.
The Gunners face an uphill task in the return leg at the Emirates if they are to turn things around and avoid bowing out of the Last 16 stage for the seventh consecutive season.
Arsenal star Mesut Ozil came under fire from sections of the press for a dip in form going into the game and there were rumours that head coach Arsene Wenger was considering dropping him.
Wenger decided to start Germany international of Turkish origin and we took a look at how Arsenal fans reacted to the Ozil's display on social media.
Ozil has not scored since 10 December 2016…
Ozil has been wandering round for 2 months, no consequence on performance.

— Darren (@DarrenArsenal1) February 15, 2017
The Ozil chant remix
We've got Ozil
Mesut Ozil
I just don't think he gives a sh*t
He walks about all game
He'd rather be in Spain
We've got Mesut Ozil

— David Taylor (@davidtaylorrr) February 15, 2017
One excuse commonly used as to why Arsenal have struggled over recent years is that that they cannot compete financially with their rivals. As the following tweet shows the Gunners paid more for their star players than Premier League leaders Chelsea.
Ozil cost more than Hazard
Xhaka more than Kante
Mustafi more than Luiz

But Arsenal can't compete financially which is why they're a mess.

— TalkOfTheBridge (@TalkOfTheBridge) February 15, 2017
Accusations of Ozil not being a big match player also resurfaced.
"But Ozil scored a wonder goal vs Ludogorets" pic.twitter.com/pkxdqUEU8n

— Deji Kofi Faremi (@deejayfaremi) February 15, 2017
BREAKING : Ozil found in Bulgaria still celebrating his goal against the mighty Ludogorets.

— Ole Teya (@Kevin_teya) February 15, 2017
Anyone seen Ozil 😅😅 pic.twitter.com/S7jynD2cOT

— Ahsan (@Ahsi_7) February 15, 2017
Ozil's work-rate did not go down well at all…
Ozil anonymous again tonight. He makes Berbatov look like Alexis Sanchez in terms of work-rate.

— Mark Ogden (@MarkOgden_) February 15, 2017
Top notch pressing from Mesut Ozil #AFC #FCBvAFC pic.twitter.com/8DbDC84yp1

— Chisanga Malata (@Chisanga_DStar) February 15, 2017
Ozil's warm up routine for big games. pic.twitter.com/K9YPNd32vk

— (Mkhit)Aryan (@theunitedmanc) February 15, 2017
If Ozil had missed tht penalty,he wouldn't score again..Will just stood there with his lazy ass nd not bother..Difference btw him and Alexis

— Olayinka (@ykgunnerz) February 15, 2017
Stunning finish from Robben…can't help but think Ozil could have done more than stand still though pic.twitter.com/GwGBhSfjsT

— Adam Boultwood (@adamboultwood) February 15, 2017
Total passes completed, 59th minute:

Neuer: 12
Ozil: 11

— Richard Farley (@richardfarley) February 15, 2017
Despite being accused of not working hard enough Ozil still made more tackles than Coquelin… I don't know what that says about the Gunners defensive midfielder on the night.
JUST THINK ABOUT THAT FOR A SECOND. MESUT OZIL, OUR NUMBER 10, MADE MORE TACKLES THAN COQUELIN, OUR DM. I'VE LOST IT.

— GoonerGordo (@GoonerGordo) February 15, 2017
Very kind of Iwobi to take up Ozil's mantle of doing absolutely nothing for this game.

— Paddy Power (@paddypower) February 15, 2017
Michael Owen felt pretty smug
Funny how all the experts are now criticising Ozil for the exact things I highlighted 2 years ago. #aftertimers

— michael owen (@themichaelowen) February 15, 2017