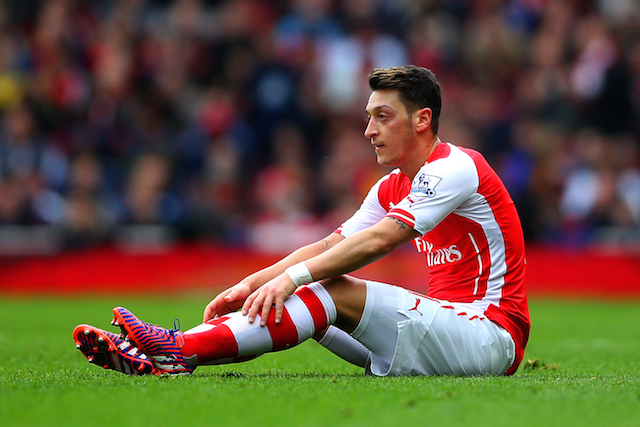 The Gunners beat Hull City 1-0 at the Emirates stadium but Mesut Ozil's display did not go down particularly well with Arsenal fans.
Alexis Sanchez scored a brace to put an end to a dismal run of form and give his side a glimmer of hope in catching league leaders Chelsea who are still nine points ahead.
See More: Everything you want to know about Mesut Ozil
Ozil has come under quite a lot of stick from sections of the Arsenal fanbase and the media after a dip in form.
We took a look at how Arsenal fans reacted to Ozil's display on social media following the Hull City clash.
As has so often been the case with Ozil, the perception created in the media regarding his form and what the stats show are poles apart. The Germany international of Turkish origin may have come under fire from sections of the press this week but he has actually scored more goals and created more chances in his first 105 games at Arsenal than he did over the same period at Real Madrid.
Özil's league record:

LaLiga: 105 games, 19 goals, 47 assists, 324 chances created
PL: 105 games, 20 goals, 37 assists, 352 chances created pic.twitter.com/ZrpmPmktvm

— Mesut Özil (@MesutOzilStats) February 11, 2017
Ozil's display against Hull City did not go down well on social media.
When was the last time Mesut Ozil had a fantastic game for us? As our supposed talisman he needs to start taking long hard looks at himself.

— Dr. Mohammed Amali (@MoAmali) February 11, 2017
Mesut Ozil has been a horror show today.

— Ifreke Inyang (@Ifreke) February 11, 2017
WHERE IS MESUT OZIL?

— Soul Kold (@SKaneunyenye) February 11, 2017
Ozil was not at his best but nobody had an outstanding game to be fair. Does he deserve to be called overrated?
Mesut Ozil must be one of the most overrated players in the Premier League. #AFC

— Jack Brain (@jackwbrain) February 11, 2017
Remember when Mesut Ozil used to be good?

— New Haven Gooners (@newhavengooners) February 11, 2017
Harsh!
Biggest frauds in football:

Player: mesut ozil
Manager: Arsene Wenger

— Gooner Adam (@AdzCampbell91) February 11, 2017
Is the cold to blame for Ozil's form?
Has Mesut Ozil ever had a good game when it's been a bit cold out? Proper fair weather footballer

— Mike Hawkes (@hawkes_mike) February 11, 2017