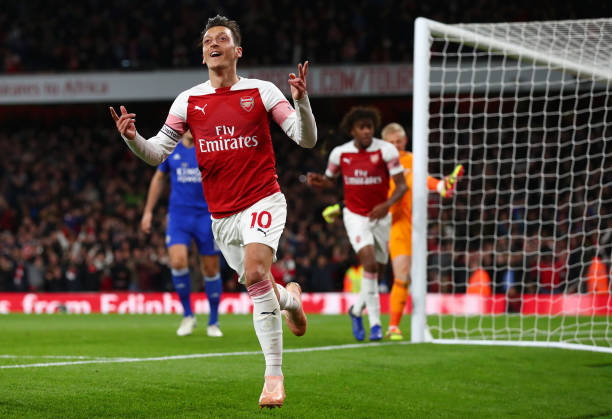 Arsenal playmaker Mesut Ozil has struggled for playing time under the stewardship of Unai Emery in 2019.
Ozil missed the 2-1 victory over Huddersfield on Saturday due to illness and he has struggled with back and knee injuries.
The 30-year-old has however, only made two appearances and just one start this year.
Former Arsenal player Gilberto Silva opened up about the current situation and made it clear that in his opinion Unai Emery cannot afford not to make use of Ozil.
"He has to be on the field," the Brazilian told talkSPORT on Friday. "A player of his caliber cannot be on the bench, in my opinion.
"People always try to find something to talk about with Ozil; why he's not playing, when he's playing he's not doing well. But this kind of player, you have to give them responsibilities.
"What's the best way to give them responsibilities? Put him on the field and right now it's down to the manager. What's the best set up of the team? Right now, I think for Arsenal fans, it is difficult to see him on the bench."
Silva made it clear that Emery must give Ozil more regular playing time so that he can find his form and help propel Arsenal forward this campaign.
"Because he's a very creative player, he can provide for strikers the final touch," he said.
"Why not find a way for the team to play and find the space for him where he can be important for the team and be more balanced on his game, to have a better average?"
Silva then proceeded to compare the playmaker of Turkish origin with Arsenal legend Dennis Bergkamp.
The former Invincible urged Ozil to look for Bergkamp for inspiration, to stay and become a club legend.
"In our time, we had Dennis Bergkamp," he added. "Of course, Dennis didn't have the same age as Ozil but he was very creative.
"He played behind Thierry [Henry] and the combination was great. Every game he played, he was at the top of his game; providing the last pass, giving a presence on the field. Because he is a player everyone respects. Don't give a chance for this player, don't let him free because he creates trouble [for defences]."
Ozil has four goals and two assists in 18 appearances for the North London based outfit this season.