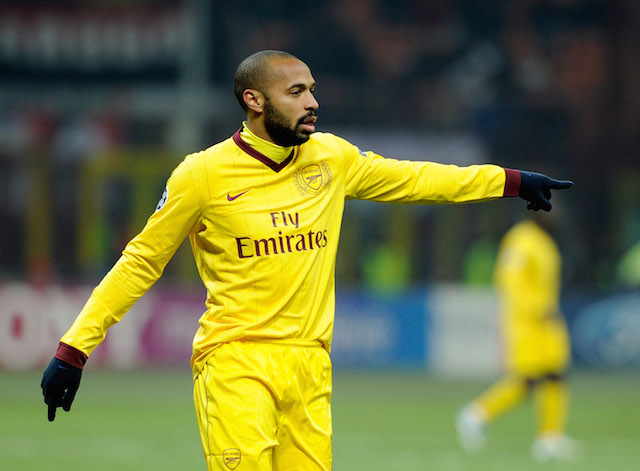 Arsenal legend Thierry Henry believes Alexandre Lacazette's goal against Newcastle United would not have happened if Mesut Ozil played.
The Germany international was rested by manager Arsene Wenger over the weekend following a mid-week trip to Russia. Ozil helped his side overcome CSKA Moscow and book their spot in the semi-finals of the Europa League.
Lacazette put his side ahead on Saturday after 14 minutes after converting a cross from Pierre-Emerick Aubameyang. During the half-time analysis, Henry stated that the attacking move which lead to the goal would never have happened if Ozil was present as the players would have opted to play short passes.
"First and foremost I want to circle here [Elneny]," Henry stated live on Sky Sports.
See More: "He has that eye" – Arsenal star sends out warning to Premier League rivals regarding Mesut Ozil
"Normally that's Mesut Ozil and I don't know if it's because it's Elneny, and I'm not having a go at Elneny, but sometimes when you are a player like Ozil and you drop to ask for the ball, you might get it sometimes when you shouldn't get it.
"I want to pinpoint something else and it's what I talk about when I talk about this guy (Aubameyang) here.
"Usually the wingers for Arsenal are already there, waiting for the ball and coming short.
"But he's not there, he wants to run in behind and Mustafi knows it.
"You can see now Elneny dropping and if it was Ozil, maybe they would have played short, but they didn't, they went in behind, he's making the run in behind, it's annoying for any defenders.
"What a cross and what a way to finish it for Lacazette."
Arsenal boss Arsene Wenger has switched his attention from the Premier League the Europa League. The European competition is the Gunners only route to qualify for the UEFA Champions League next season.
Ozil has registered 14 assists and scored five goals in 33 appearances for Arsenal this season.