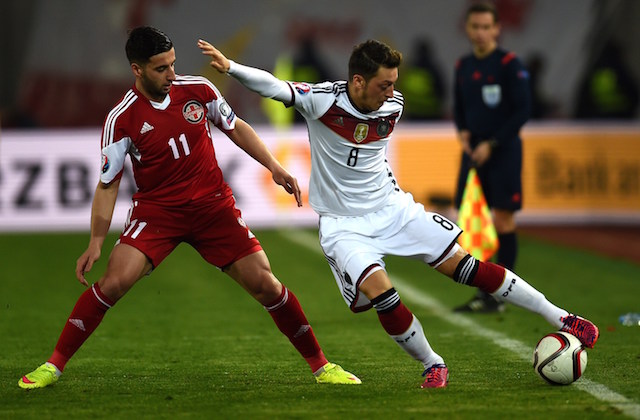 Mesut Özil has praised a fan-made graphic showing his superhuman vision on the football field.
The 'what Özil sees' graphic displays the advanced level of footballing intelligence the World Cup winner possesses.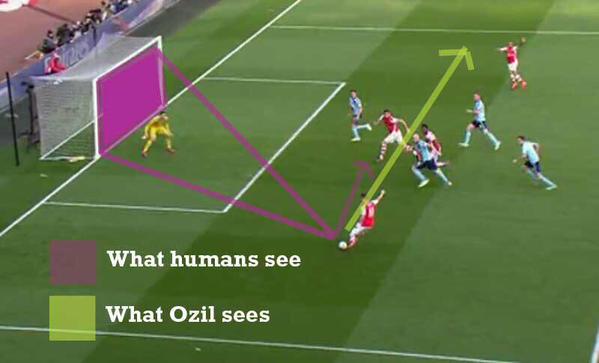 See More
Three reasons why Manchester City should sign 'Spiderman' Mehmet Topal
Three reasons West Ham should target Demba Ba
Özil admitted he was impressed by the graphic and agreed that he probably does see more on the field than the mere mortals he plays against. The 26-year-old stated he has an almost instinctive sense of who to pass to and when to play the ball through.
"A while ago I was on Instagram and saw that a fan had made a graphic showing what other players see and what I see. I found that really interesting," Özil told Arsenal Player.
"I think the things that I sometimes see come from an instinct and you can't really learn that, though you can work hard at passing. I spontaneously decide on what I'm going to do and maybe see spaces that other players don't."
The 26-year-old has a huge social media following and only Manchester United star Wayne Rooney has a more popular Twitter profile. Özil has a total of 9.5 million Twitter followers, 26 million Facebook likes and 2.8 million Instagram fans.
The World Cup winner was one of his sides star performers in 2015 winning two Vitality and one PFA Fans player of the month awards.
Özil is currently on his summer holiday in Los Angeles before returning to North London for pre-season training alongside the rest of his teammates.