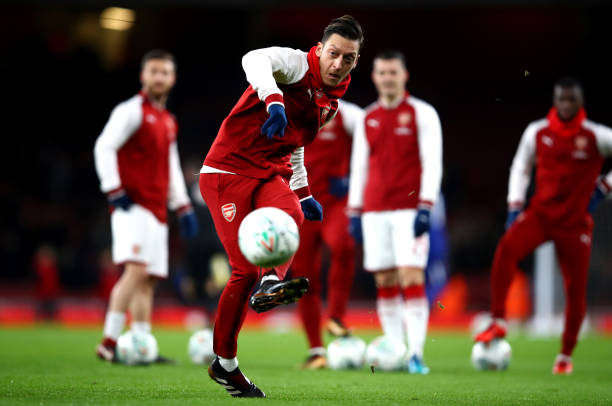 Arsenal playmaker Mesut Ozil is renowned as being a bit of a pass master but how does he measure up compared to other Premier League stars.
Well as it turns out Ozil has made 1,738 passes this season which puts him in the Top 20 but nowhere near the top spot which is occupied by Manchester City defender Nicolas Otamendi (2,679).
Ozil may not have completed the highest number of passes but he has created the most chances in the league since joining Arsenal.
The playmaker of Turkish origin also became the fastest player to reach 50 Premier League assists, completing it in 141 games, bettering Eric Cantona's record by two games.
City dominated the list with five players in the top nine.
Fellow midfielder of Turkish origin Ilkay Gundogan did not make the top 20 list for City but Liverpool's Emre Can did.
The 24-year-old is 20th in the rankings with 1,543 passes.
See More: Turks Abroad: Everton Find Their Away Elixir In Cenk, Enes Unal Rocks Atletico Madrid
The full list according to the Daily Star is as follows:
20 – Emre Can
19 – Oriol Romeu
18 – Aaron Mooy
17 – Joel Matip
16 – N'Golo Kante
15 – Laurent Koscielny
14 – Cesc Fabregas
13 – Mesut Ozil
12 – Christian Eriksen
11 – Abdoulaye Doucoure
10 – Eric Dier
9 – David Silva
8 – Jan Vertonghen
7 – Nemanja Matic
6 – Kyle Walker
5 – Cesar Azpilicueta
4 – Kevin De Bruyne
3 – Fernandinho
2 – Granit Xhaka
1- Nicolas Otamendi