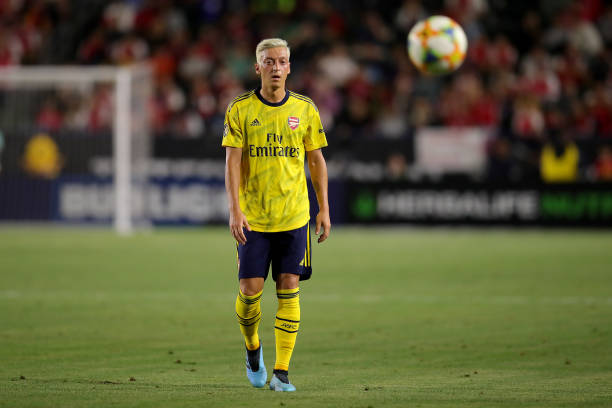 Arsenal star Mesut Ozil has responded to the knife-wielding moped gang who attacked him, his wife Amine Gulse and Saed Kolasinac in London on Thursday.
Ozil took to social media on Friday to reveal that they were all fine and 'doing well' after the incident and he thanked the fans for all 'their supporting messages'.
The playmaker shared a photograph on his official Twitter channel in which he was smiling with fellow teammate Kolasinac.
.@seadk6, my wife Amine and me are doing well again after yesterday's incident in London. Thanks for all your supporting messages guys. 🙏🏼❤ #M1Ö pic.twitter.com/ffu48rS9AY

— Mesut Özil (@MesutOzil1088) July 26, 2019
The Bosnian international also shared the same photograph on his official twitter page in his reaction to the attack.
The attack took place along Golders Green Road in north London. They were driving in Ozil's Mercedes G-Class 4X4 when confronted by the attackers who were wielding knifes.
See More: The Secret Life Of Arsenal Star Mesut Ozil
Kolasinac took on the gang and managed to temporarily scare them off while his Arsenal teammate remained in the car.
This really is just insane. Thank god both Ozil and Sead are ok 🙏🏼🧿

— Eren Sarigul (@_ErenSarigul) July 25, 2019
Afterward, they were all chased down the road to a nearby Turkish restaurant where the restaurant staff helped chase the gang away.
Ozil and Kolasinac both reported for pre-season training the next day and the incident is not expected to have an effect on their preparations.